Appearing in Concert on Friday, October 7, 2022, at 3:30 pm. Brett Wilson's solo set Friday Evening at 9:00 pm, a Special Show only for VIPs, Exhibitors, and Hotel Guests!
Billboard and radio chart topping, award-winning, international reggae-rock sensation Roots of Creation, live at The HighLifeStyle Show Boxborough, MA October 7-9, 2022. A Gathering of HIGHLY FUNCTIONAL PEOPLE Brands, Dispensaries, Growers, Distributors, Artists, Innovators, and Influencers, Consumers of the High Life, Style, Music, Arts, and Culture!
Whether on the festival circuit, performing at jam and reggae-rock favorites like Camp Bisco, Gathering of The Vibes, California Roots, Jungle Jam, and Closer to the Sun, or sharing the stage at sold-out shows with some of their diverse influences including Slightly Stoopid, The Wailers, and Michael Franti, reggae/rock/dubtronica band Roots of Creation (RoC) offers up a high-energy, infectious live music experience. Their mix of reggae riddims, conscious lyrics, spirited horn lines, and electronic beats makes crowds move and has their loyal underground fan base (RoC Family) and street team (Universal Soldiers) traveling the distance to pack venues from coast to coast.
"Reggae -Funk – Rock that erupts on stage, severing artist-audience barriers while summoning fans to join them in an awakening."
– Devin Madden – Relix Magazine
Roots of Creation's most recent release, Livin Free (2016), debuted at No. 1 on both the Billboard Reggae and the Relix/Jambands.com Radio charts. Livin Free is a triple record that includes three versions of each song–studio, dub, and acoustic that features guest performances by Melvin Seals (Jerry Garcia Band), Marshall "Ras MG" Goodman (Sublime, Long Beach Dub Allstars), the Rubblebucket horn section, Billy Kottage (Reel Big Fish), Grammy-nominated Pato Banton (Sting, UB40), and many more. Additionally, the album welcomes guest production by Yeti Beats (Rebelution, Slightly Stoopid).
"America's contribution to Reggae music: the Jam-Reggae hybrid."
– Brent Hagerman, Exclaim
Now RoC has taken on a unique new project: Grateful Dub. Combining their longtime love for reggae-dub style music and the Grateful Dead, RoC reworked some of the world's favorite Dead tunes into a new studio album. RoC had the pleasure of working in the studio with the legendary 5-time Grammy winner Errol Brown who was Bob Marley's engineer and now Rebelution's live sound engineer for this project. Grateful Dub is also being performed live in its entirety at festivals, theatres, and clubs around the country, and features rotating special guests including Melvin Seals (JGB), Scott Guberman (Phil Lesh) full horn sections, and others. Grateful Dub captures the spirit and magic of the Grateful Dead while laying it down in reggae-dub style.
ROOTS OF CREATION appearing in Concert on Friday, October 7, 2022, at 3:30 pm – also Brett Wilson's solo set Friday Evening at 9:00 pm – Special Show only for VIPs, Exhibitors, and Hotel Guests
About the show
October 7-9, 2022
The Boxboro Regency Hotel and Conference Center, Boxborough, MA
Tickets are available now!
You must be at least 21 years of age to enter the private property.

There will be over 30,000 sq ft indoor and outdoor gathering of brands, dispensaries, distributors, growers, artists, performers, and consumers to converge in the HighLifeStyle of B2B and B2C in a resort hotel conference setting with exhibitors, vendors, concerts, comedy, education, celebrities, socializing and networking.
Offering exhibitors and vendors a fun environment to meet qualified customers who are interested in canna-related products, services, and creative arts. There will be no THC products for sale on the property.
As a business conference, one of The HighLifeStyle Show's goals is to have businesses, entrepreneurs, and brands will be able to meet the distributors, retailers, and consumers in an entertaining, safe environment. Retail distributors can promote their products and retail locations in order to compete to attract new customers. Artists can find new fans. Craft growers can network to find supplies they may need to be an at-home botanist, or find outlets or job opportunities.
As a LifeStyle conference, we will be showcasing all aspects of the canna-inspired culture including health, wellness, music, art, clothing, literature, food, cultivation, supplies, medical, educational, and ancillary aspects including cannabis weddings and travel.
There will be two levels of participation involving access to indoor and outdoor activities. All attendees will be able to access all of the Exhibitors indoors and out.
Live Music On The Main Stage Outdoors All Weekend Long Includes
The Wailers, Roots of Creation, Jon Butcher Axis, Brett Wilson, Mikaela Davis, Barrence Whitfield, Walter Sickert & The Army of Broken Toys, Tsunami of Sound, Justine's Black Threads, and more.
Laugh your bud off with LIVE Comedy & Stand-up
Starring Matt Barry, Mona Forgione, Ian Stuart, and Josh Day will be performing standup comedy, all weekend long.
Click Here For more info on Exhibitor Space or Sponsorship, or email:
Marc@NECANN.com or GarySohmers@gmail.com
THERE WILL BE NO SELLING ANYTHING IN VIOLATION OF MASSACHUSETTS LAW. THIS LOCATION IS NOT A DISPENSARY.
About the Venue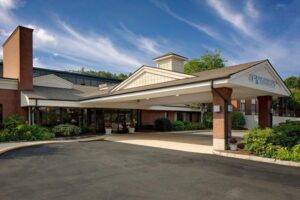 Boxboro Regency Hotel (978) 263-8701 Located in a rural area near several corporate offices, this conference hotel is 1 mi (1.6 km) from I- 95 and within 1 mi (2 km) of Oxbow National Wildlife Refuge. A 20-minute drive from downtown Boston. The warm, traditionally furnished rooms feature free Wi-Fi access, a flat-screen TV, a coffee maker, and a seating area. Higher classrooms have mini-fridges and/or a balcony or terrace overlooking the pool. Suites also include sofa beds and microwaves, while higher-end suites have separate living rooms. The on-site full-service restaurant is open for breakfast, lunch, and dinner and serves modern American fare. Guests can unwind on the indoor pool deck. Additional amenities include an exercise facility and an indoor pool. The hotel provides free parking and is pet friendly.
While there are many pleasant restaurants close to our hotel, we are happy to offer guests delicious on-site dining options. Enjoy breakfast, lunch or dinner at our casual restaurant Minuteman Grille American Pub. You can also enjoy a delicious meal served directly in your room.
Amenities consist of a tropical atrium with a fountain, free Wi-Fi, free parking, disabled access, an indoor pool, restaurant, bar, room service, and air conditioning. Refrigeration, Airport Shuttle, Pets Allowed, Dogs Allowed (please call hotel for more information 978-263-8701). In addition, for hotel guests, we provide a fully equipped fitness center that includes changing rooms and showers, treadmills, ellipticals, stationary bikes, and free weights. Stay in control of your business with our on-site business center, which offers computer, printer, and fax services.
The hotel restaurant, bar, and indoor restrooms are also exclusive to VIPs, Hotel guests, and Exhibitors.
VIP Live Concerts including Roots of Creation appearing in Concert on Friday, October 7, 2022, at 4:00 pm – also Brett Wilson solo set Friday Evening – Special Show only for VIPs, Exhibitors and Hotel Guests and Mikaela Davis with her band Southern Star will be performing in concert Saturday, Oct. 8 on the main stage outdoors – Mikaela Davis will be performing a special solo concert for VIPs, Exhibitors and Hotel Guests with More VIP Activities To Be Announced.
Roots of Creation chart topping, award-winning, reggae-rock sensation