Mass Alternative Care (MAC) specializes in producing cannabis products with the highest standard in mind. A focus on flower that is cultivated in small batches, produced with high-quality nutrients, trimmed, and weighed by hand. MAC ensures that every plant is grown with care from start to finish. We craft prerolls from high-quality bud only, never shake or trim. We ensure Massachusetts has access to premium cannabis.
For those of us who toast to life. The everydayer, looking to find ways to take on life and embrace nature, music, and all that life has to offer. Cannabis can ignite and transcend these experiences into something even more amazing and we're happy to be a part of that. From anyone looking for little relief to the craft cannabis aficionado looking for an elevated experience-MAC has it. We strive to cultivate the retail experience for first-timers and old-timers alike by providing a variety of high-quality products in a friendly and inviting setting. To provide an optimal customer experience, we've partnered with some of Massachusetts's best manufacturers across flower, concentrate, vape, edible, and topical categories to provide an unrivaled mix of products to support all occasions.
Since 2018, Mass Alternative Care has been Massachusetts's premiere cannabis dispensary. A dispensary you can trust, we want you to feel comfortable, happy, and excited when visiting us.. Imagine if your best friend became an expert on cannabis and started a dispensary. We care deeply about cannabis, you could say it's in our roots. MAC is a family operation and cannabis has played a role our whole lives. The great flower is a special thing that we value above all. Family owned, small batch, hand trimmed. You're simply getting the best. Cannabis that you tell your friends and even nana about. MAC is on a mission to grow unique, top-tier flower. Helping the plant reach higher to its fullest genetic potential, while also providing the best experience possible for our customers.
"Well Fed Flower"
How you feed your plants matters. MAC grows our premium cannabis in our Chicopee location which uses well water to feed our plants. Our well water is something special. The water you tell your friends about. High-quality H2O. Mineral filtered, fresh from the valley rivers of Western Massachusetts. We take care in ensuring only the best goes into making our premium cannabis. Well Fed Flower not only speaks to where we get our water from, but we also take great pride in having cannabis fed properly.
Our cultivators work daily to procure the highest quality product possible. Being a vertically integrated cannabis company, we grow, package, and sell from our indoor facility in Chicopee, MA. Our state-of-the-art facility allows our cultivators to ensure our flower has the perfect environment and care from seed to sale. Custom recipes are created to cater to each strain and maximize the genetic potential of each plant while also using a custom lighting spectrum. All growing mediums used are biodegradable/compostable. Every single product from MAC is hand-trimmed, hand packaged, and quality-checked to ensure you only get the best of the best available.
Happy plants, happy life. Visit our booth #227 and talk to Chantal Henry and Kyle Rego to see how Mass Alternative Care can help.
About The HighLifeStyle Show
HighLifeStyle Show Oct 7-9 Cheech Marin, Jon Provost, The Wailers, Roots of Creation, MIkaela Davis, Jon Butcher Axis, Barrence Whitfield, Walter Sickert Army of Broken Toys, Justine's Black Threads, Tsunami of Sound, DJ Slim, Bliss Bus, Mystery Machine, Viper Vaudeville, Standup Comedy, Baked Bingo, exhibitors, lots more fun https://highlifestyleshow.com/the-highlifestyle-show-tickets-available-now/
Frequently Asked Questions
Do I need to be 21+ and is the show open to the public?
The show is open to the public, 21+ NO EXCEPTIONS.
Do I have to bring my ticket to the event?
You will need a copy of the ticket, printed or on your phone.
Can I leave & re-enter?
Yes, unlimited re-entry for the day of the show with a badge.
Can I bring/use cannabis to the event?
Yes – consumption will be permitted in all outside spaces. Possession and use of cannabis MUST be in compliance with Massachusetts law.
Is my registration/ticket transferable?
Yes – anyone over 21 can use your ticket.
What is the refund policy?
All ticket sales are final, with no refunds.
The High Lifestyle Show October 7-9, 2022
The Boxboro Regency Hotel and Conference Center, Boxborough, MA
Tickets are available now!
You must be at least 21 years of age to enter the private property.
There are a lot of reasons that we will be at the HighLifeStyle Show in Boxborough from Oct. 7 to Oct. 9, and the fact that the Dig is co-sponsoring a tent with the Weed Game Show, Boston Baked Bingo, a DJ Slim performance, yoga, and other activities is just one of them.
The lineup for the weekend is also spectacular beyond our wildest weeded dreams. As we announced earlier, the Wailers will be headlining the music stage, and Cheech Marin himself will also be on-site meeting fans.

The HighLifeStyle Show will be over 30,000 sq ft indoor and outdoor gathering of brands, dispensaries, distributors, growers, artists, performers, and consumers to converge in the HighLifeStyle of B2B and B2C in a resort hotel conference setting with exhibitors, vendors, concerts, comedy, education, celebrities, socializing and networking.
The HighLifeStyle Show offers exhibitors and vendors a fun environment to meet qualified customers who are interested in canna-related products, services, and creative arts.
As a business conference, one of our goals is to have businesses, entrepreneurs, and brands be able to meet the distributors, retailers, and consumers in an entertaining, safe environment. Retail distributors can promote their products and retail locations in order to compete to attract new customers. Artists can find new fans. Craft growers can network to find supplies they may need to be an at-home botanist, or find outlets or job opportunities.
As a LifeStyle conference, we will be showcasing all aspects of the canna-inspired culture including health, wellness, music, art, clothing, literature, food, cultivation, supplies, medical, educational, and ancillary aspects including cannabis weddings and travel.
There will be two levels of participation involving access to indoor and outdoor activities. All attendees will be able to access all of the Exhibitors indoors and out.
Live Music On The Main Stage Outdoors All Weekend Long Includes
The Wailers, Roots of Creation, Brett Wilson, Mikaela Davis, Barrence Whitfield, Walter Sickert & The Army of Broken Toys, Tsunami of Sound, Justine's Black Threads, and more.
Laugh your bud off with LIVE Comedy & Stand-up
Starring Matt Barry, Mona Forgione, Ian Stuart, and Josh Day will be performing standup comedy, all weekend long.
Click Here For more info on Exhibitor Space or Sponsorship, or email:
Marc@NECANN.com or GarySohmers@gmail.com
THERE WILL BE NO SELLING ANYTHING IN VIOLATION OF MASSACHUSETTS LAW. THIS LOCATION IS NOT A DISPENSARY.
About the Venue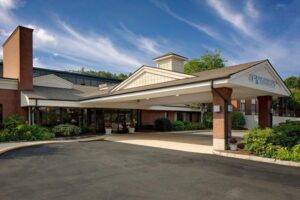 Make it a vacation and stay for the weekend! Boxboro Regency Hotel (978) 263-8701 Located in a rural area near several corporate offices, this simple conference hotel is 1 mi (1.6 km) from I- 95 and within 1 mi (2 km) of Oxbow National Wildlife Refuge. 9 km and 33 km from downtown Boston. The warm, traditionally furnished rooms feature free Wi-Fi access, a flat-screen TV, a coffee maker, and a seating area. Higher-class rooms have mini-fridges and/or a balcony or terrace overlooking the pool. Suites also include sofa beds and microwaves, while higher-end suites have separate living rooms.
While there are many pleasant restaurants close to our hotel, we are happy to offer guests delicious on-site dining options. Enjoy breakfast, lunch, or dinner at our casual restaurant Minuteman Grille American Pub. You can also enjoy a delicious meal served directly in your room.
Amenities consist of a tropical atrium with a fountain, free Wi-Fi, free parking, disabled access, an indoor pool, a restaurant, bars, room service, and air conditioning. Refrigeration, Airport Shuttle, Pets Allowed, Dogs Allowed (please call hotel for more information). information 978-263-8701). In addition, for hotel guests, we provide a fully equipped fitness center that includes changing rooms and showers, treadmills, ellipticals, stationary bikes, and free weights. . Stay in control of your business with our on-site business center, which offers computer, printer, and fax services.
The hotel restaurant, bars, and indoor restrooms are also exclusive to VIPs, Hotel guests, and Exhibitors.
VIP Live Concerts including Roots of Creation appearing in Concert on Friday, October 7, 2022, at 4:00 pm – also Brett Wilson solo set Friday Evening, Cannabis Viper Vaudeville performance – Special Show only for VIPs, Exhibitors, and Hotel Guests and Mikaela Davis with her band Southern Star will be performing in concert Saturday, Oct. 8 on the main stage outdoors – Mikaela Davis will be performing a special solo concert for VIPs, Exhibitors and Hotel Guests with More VIP Activities To Be Announced.
Friday, October 7 (VIPs, Exhibitors, and Hotel Guests only): 3:00 pm – 10:00 pm
Roots of Creation 3:30-5:00, then after-hours fun with a Comedy show, , and Brett Wilson's solo set!
Mass Alternative Care – Cannabis Products With the Highest Standard in Mind