With five surgeries under her belt, four pets, three kids, two shoulders full of anchors, and an old roller derby jersey in her closet, Mona Forgione is a Mombot by day, stand-up comedian by night. When not serving sandwiches or slinging jokes, she's writing about the highs and lows and subterranean levels of her motherhood experience. Mona has been living an unfiltered comedy sketch since childhood. Originally from Chelsea, Massachusetts, but now living in New Hampshire, this Chelsea native first shared her riotous tales after a journey of self-care landed her in the surgical center twice. Now, Mona's focus is sharing her takes on her life's most ludicrous moments "for the greater good". Mona has that rare ability to be both bitter and motherly, and she is raw, comfortably, uncomfortably relatable. Voted "Most Friendly" in High School, this Stay-at-Home mother of three has Gone Rogue.
In the wake of retirement from competitive Roller Derby with two shoulders full of anchors, Mona Forgione is embracing her role as a cautionary tale of what a midlife crisis can bring. A twice Finalist of the NorthEast ComicCon Comedy Battle Royale (2018 & 2019), current host of the NorthEast ComicCon Comedy Battle Royale (2021-Present), Semifinalist of the 2020 Boston Comedy Festival (virtual), and radio appearances on FrankFm with Mike Morin, WGIR with Jack Heath, and WJYY with Nazzy Nazz – our favorite Mombat brings her humor to the HighLifeStyle Show.
Don't fret. We got you. Patrons looking somber? Employee morale at a low? Someone getting cold feet? Give 'em what they need. A Laugh. Gone Rogue Productions, LLC in NH delivers fantastically funny comedians to your establishment or private event across New England. Producing NH Comedy Events with a twist. Fantastically funny Stand-up shows, Bach, Bachelor, Bachelorette Parties, and Our New – Trashed Trivia, The Interactive Game of Vulgarity.
Offering single event, weekly, monthly shows, and TRIVIA NIGHTS!
IG: @monaforgione
FB: @mona.forgione.5
Website: https://goneroguewithmona.com
About the show
October 7-9, 2022
The Boxboro Regency Hotel and Conference Center, Boxborough, MA
Tickets available now!
You must be at least 21 years of age to enter the private property.

The HighLifeStyle Show will be over 30,000 sq ft indoor and outdoor gathering of brands, dispensaries, distributors, growers, artists, performers and consumers to converge in the HighLifeStyle of B2B and B2C in a resort hotel conference setting with exhibitors, vendors, concerts, comedy, education, celebrities, socializing and networking.
Offering exhibitors and vendors a fun environment to meet qualified customers who are interested in canna related products, services and creative arts. There will be no THC products for sale on property.
As a business conference, one of our goals is to have businesses, entrepreneurs and brands to be able to meet the distributors, retailers and consumers in an entertaining, safe environment. Retail distributors can promote their products and retail locations in order to compete to attract new customers. Artists can find new fans. Craft growers can network to find supplies they may need to be an at-home botanist, or find outlets or job opportunities.
TAX TIP: Expenses incurred while traveling to and from a trade show, as well as lodging, are all deductible, as long as they are for business purposes and not a personal vacation.
As a LifeStyle conference, we will be showcasing all aspects of the canna-inspired culture including health, wellness, music, art, clothing, literature, food, cultivation, supplies, medical, educational, and ancillary aspects including cannabis weddings and travel.
There will be two levels of participation involving access to indoor and outdoor activities. All attendees will be able to access all of the Exhibitors indoors and out.
Live Music On The Main Stage Outdoors All Weekend Long Includes
The Wailers, Roots of Creation, Brett Wilson, Mikaela Davis, Barrence Whitfield, Walter Sickert & The Army of Broken Toys, Tsunami of Sound, Justine's Black Threads, and more.
Laugh your bud off with LIVE Comedy & Stand-up
Starring Matt Barry, Mona Forgione, Ian Stuart, and Josh Day will be performing standup comedy, all weekend long.
Click Here For more info on Exhibitor Space or Sponsorship, or email:
Marc@NECANN.com or GarySohmers@gmail.com
THERE WILL BE NO SELLING ANYTHING IN VIOLATION OF MASSACHUSETTS LAW. THIS LOCATION IS NOT A DISPENSARY.
About the Venue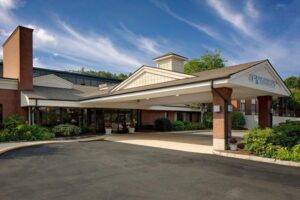 Stay for the weekend! Boxboro Regency Hotel (978) 263-8701 Located in a rural area near several corporate offices, this simple conference hotel is 1 mi (1.6 km) from I- 95 and within 1 mi (2 km) of Oxbow National Wildlife Refuge. 9 km and 33 km from downtown Boston. The warm, traditionally furnished rooms feature free Wi-Fi access, a flat-screen TV, a coffee maker, and a seating area. Higher-class rooms have mini-fridges and/or a balcony or terrace overlooking the pool. Suites also include sofa beds and microwaves, while higher-end suites have separate living rooms.
While there are many pleasant restaurants close to our hotel, we are happy to offer guests delicious on-site dining options. Enjoy breakfast, lunch or dinner at our casual restaurant Minuteman Grille American Pub. You can also enjoy a delicious meal served directly in your room.
Amenities consist of a tropical atrium with a fountain, free Wi-Fi, free parking, disabled access, an indoor pool, a restaurant, a bar, room service, and air conditioning. Refrigeration, Airport Shuttle, Pets Allowed, Dogs Allowed (please call hotel for more information 978-263-8701). In addition, for hotel guests, we provide a fully equipped fitness center that includes changing rooms and showers, treadmills, ellipticals, stationary bikes, and free weights. Stay in control of your business with our on-site business center, which offers computer, printer, and fax services.
The hotel restaurant, bar, and INDOOR restrooms are also exclusive to VIPs, Hotel guests, and Exhibitors.
VIP Live Concerts including Roots of Creation appearing in Concert on Friday, October 7, 2022, at 4:00 pm – also Brett Wilson solo set Friday Evening – Special Show only for VIPs, Exhibitors and Hotel Guests and Mikaela Davis with her band Southern Star will be performing in concert Saturday, Oct. 8 on the main stage outdoors – Mikaela Davis will be performing a special solo concert for VIPs, Exhibitors and Hotel Guests with More VIP Activities To Be Announced.
Mona Forgione Brings the Funny to the HighLifeStyle Show!