Smokenol™ – CANNABIS INDUSTRY OUTLIERS
We're so excited to be at The HighLifeStyle Show on October 7,8,9, 2022 in Boxboro Massachusetts. We would love to share more about our team, motivation, and research with you. Visit our booth and see what the future holds, as innovators in the growing cannabis industry, we are interested in connecting with other innovators, and wholesalers and creating new and exciting products.
Our team is powerful: We bridge the gap between academic science and the cannabis community. With an engaged following of over 580,000 cannabis industry professionals, scientists, medical professionals, medical patients, and adult-use consumers, our team is made up of passionate advocates who are directly altering consumer use trends through education and empowerment. We believe in the power of natural remedies and that there is more than enough science to back it up.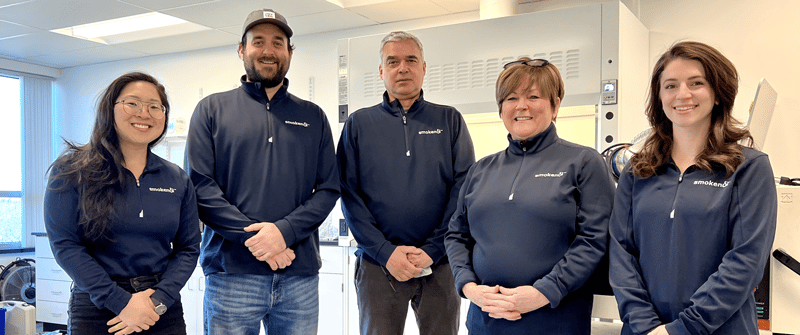 We strive to communicate high-level academic knowledge to everyday users.
RESEARCHING previously taboo subjects
SHARING unconventional (free) education
PROMOTING responsible and mindful use of cannabis
CREATING products with unique effects
ENABLING improved quality of life
We at "Smokenol Day", are trustworthy and transparent with a passion for making science fun and accessible, which has helped us build an educated following of over 580,000 cannabis industry workers, consumers, and patients.

Our company was born when Andy Westerkamp, a cannabis cultivator and connoisseur, began growing his own medicine when he was diagnosed with Hereditary Neuropathy with liability to Pressure Palsy (HNPP), a rare neurological disorder for which there is no treatment. Understanding cannabis has helped Andy and his wife, who has multiple autoimmune disorders, manage their quality of life.
In 2018, Andy began working on a cannabis research project with Dr. Miyabe Shields, Ph.D. They soon realized that critical concepts in cannabis science have been neglected and, in 2019, they began investigating the unique combinations and effects of cannabis smoke at C2i, a Greater Boston Life Sciences Accelerator. In early 2022, they moved into their own lab at the Emerging Tech Center at Dunham Ridge.
Dr. Riley Kirk, PhD brings her expertise in medicinal natural products chemistry and her ambition to create interactive high-level science communication paired with demographic community-driven research to the Smokenol Day team. The team aims to enable consumers to improve their quality of life by promoting informed and responsible use of cannabis, by transforming standard education paradigms, and by creating unique, high-quality products.
Our patent-pending method of harvesting cannabinoids and terpenes from cannabis smoke produces a new type of cannabis extract called Smokenol™. Smokenol is made with the high heat needed to generate cannabis smoke and contains unique molecules which lead to different effects from conventional cannabis extracts. Smokenol™ establishes a new category of oral, topical, and inhaled cannabis products. We license our technology to be used for high-THC adult-use and medicinal cannabis products and produce our own products, derived from hemp cannabis, under the brand Profound Naturals™.  
—
—
Smokenol Day Inc. a leader in CANNABIS SCIENCE
Smokenols patent-pending method is used to extract cannabinoids and terpenes from cannabis flower smoke. The extract is then used as the primary active ingredient in products such as pills, capsules, gummies, tinctures, and topicals. Real Isolates has developed a commercially viable method to harvest cannabinoids and terpenes from cannabis smoke. This patent-pending extraction method enables edible effects more similar to those from smoking. Smokenol™ is rich in common and rare cannabinoids and enables a new category of oral, topical, and inhaled cannabis products.
Cannabis Smoke Extract: A New Innovation in the Medical/Adult-Use Cannabis and Hemp/CBD Industry
We are in the Top 1.5% of All Podcasts Worldwide
SMOKE N' SCIENCE PODCAST
Breaking down the fact vs. fiction of cannabis for everyday users, this podcast is hosted by two Ph.D. cannabis research scientists, Dr. Miyabe Shields and Dr. Riley Kirk. While this may sound as dry and crusty as a forgotten two-year-old stash, these scientists are both daily users who prioritize being relatable and engaging, with the main goal of giving consumers practical knowledge that can directly translate into their own practices. If you're ready to dive deep into the interaction of humans and nature sit back and start a session of Smoke N' Science!
January 15, 2022
Real Isolates moves into new lab space at the Cummings Emerging Tech Center Beverly, MA
March 28, 2022 – Real Isolates has formed a subsidiary named Smokenol Day™ to manufacture and sell hemp-derived Smokenol products containing low to no detectable levels of THC. These 'CBD' products are available online and at retail stores under the brand 'Profound Naturals™'.  Talk to us at The HighLifeStyle Show in Boxborough Massachusetts on October 7th 8th and 9th for wholesale information for Profound Naturals™ hemp-derived (CBD) products or for licensing and manufacture of medicinal and adult-use cannabis Smokenol™ products.
July 6, 2022
Our team at Smokenol Day just published a chapter in the book "Revolutionizing the Potential of Hemp and Its Products in Changing the Global Economy"! Chapter 6 co-authored by Dr. Miyabe Shields and Dr. Riley Kirk summarizes the pharmaceutical applications of Hemp Cannabis.
About the show
October 7-9, 2022
The Boxboro Regency Hotel and Conference Center, Boxborough, MA
Tickets are available now!
You must be at least 21 years of age to enter the private property.

The HighLifeStyle Show will be over 30,000 sq ft indoor and outdoor gathering of brands, dispensaries, distributors, growers, artists, performers, and consumers to converge in the HighLifeStyle of B2B and B2C in a resort hotel conference setting with exhibitors, vendors, concerts, comedy, education, celebrities, socializing and networking.
Offering exhibitors and vendors a fun environment to meet qualified customers who are interested in canna-related products, services, and creative arts.
As a business conference, one of our goals is to have businesses, entrepreneurs, and brands able to meet the distributors, retailers, and consumers in an entertaining, safe environment. Retail distributors can promote their products and retail locations in order to compete to attract new customers. Artists can find new fans. Craft growers can network to find supplies they may need to be an at-home botanist, or find outlets or job opportunities.
As a LifeStyle conference, we will be showcasing all aspects of the canna-inspired culture including health, wellness, music, art, clothing, literature, food, cultivation, supplies, medical, educational, and ancillary aspects including cannabis weddings and travel.
There will be two levels of participation involving access to indoor and outdoor activities. All attendees will be able to access all of the Exhibitors indoors and out.
Live Music On The Main Stage Outdoors All Weekend Long Includes
The Wailers, Roots of Creation, Brett Wilson, Mikaela Davis, Barrence Whitfield, Walter Sickert & The Army of Broken Toys, Tsunami of Sound, Justine's Black Threads, and more.
Laugh your bud off with LIVE Comedy & Stand-up
Starring Matt Barry, Mona Forgione, Ian Stuart, and Josh Day will be performing standup comedy, all weekend long.
Click Here For more info on Exhibitor Space or Sponsorship, or email:
Marc@NECANN.com or GarySohmers@gmail.com
THERE WILL BE NO SELLING ANYTHING IN VIOLATION OF MASSACHUSETTS LAW. THIS LOCATION IS NOT A DISPENSARY.
About the Venue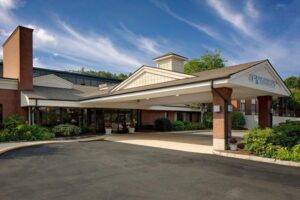 Boxboro Regency Hotel (978) 263-8701 Located in a rural area near several corporate offices, this conference hotel is 1 mi (1.6 km) from I- 95 and within 1 mi (2 km) of Oxbow National Wildlife Refuge. A 20-minute drive from downtown Boston. The warm, traditionally furnished rooms feature free Wi-Fi access, a flat-screen TV, a coffee maker, and a seating area. Higher classrooms have mini-fridges and/or a balcony or terrace overlooking the pool. Suites also include sofa beds and microwaves, while higher-end suites have separate living rooms. The on-site full-service restaurant is open for breakfast, lunch, and dinner and serves modern American fare. Guests can unwind on the indoor pool deck. Additional amenities include an exercise facility and an indoor pool. The hotel provides free parking and is pet friendly.
While there are many pleasant restaurants close to our hotel, we are happy to offer guests delicious on-site dining options. Enjoy breakfast, lunch, or dinner at our casual restaurant Minuteman Grille American Pub. You can also enjoy a delicious meal served directly in your room.
Amenities consist of a tropical atrium with a fountain, free Wi-Fi, free parking, disabled access, an indoor pool, restaurant, bar, room service, and air conditioning. Refrigeration, Airport Shuttle, Pets Allowed, Dogs Allowed (please call hotel for more information 978-263-8701). In addition, for hotel guests, we provide a fully equipped fitness center that includes changing rooms and showers, treadmills, ellipticals, stationary bikes, and free weights. Stay in control of your business with our on-site business center, which offers computer, printer, and fax services.
The hotel restaurant, bar, and indoor restrooms are also exclusive to VIPs, Hotel guests, and Exhibitors.
VIP Live Concerts including Roots of Creation appearing in Concert on Friday, October 7, 2022, at 4:00 pm – also Brett Wilson solo set Friday Evening – Special Show only for VIPs, Exhibitors and Hotel Guests and Mikaela Davis with her band Southern Star will be performing in concert Saturday, Oct. 8 on the main stage outdoors – Mikaela Davis will be performing a special solo concert for VIPs, Exhibitors and Hotel Guests with More VIP Activities To Be Announced.
Smokenol Day – Leading the way in education, innovation & scientific research