Tattoo Arts Festival at The HighLifeStyleShow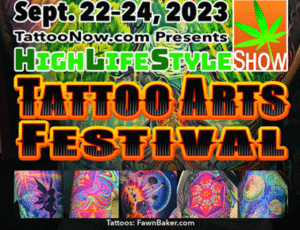 The HighLifeStyleShow will be a gathering of brands, dispensaries, distributors, growers, artists, performers and consumers to converge in the HighLifeStyle of B2B and B2C in a resort hotel conference setting with exhibitors, vendors, concerts, comedy, education, celebrities, socializing and networking.
This year, the HighLifeStyle Show welcomes TattooNow.com, presenting the Tattoo Arts Festival!
Tattoo Arts Festival: A Canvas for Body Artists
WANT TO BE A TATTOO ARTIST AT THE SHOW – CLICK HERE
Step into the captivating realm of body art at the Tattoo Arts Festival. We're opening the floor to 40 curated body artists. Our roster already boasts talents like Canman from Visions Tattoo, Fawn Baker of Red Tree Tattoo, and James, a sage of Tattooing Wisdom. Artists, this is your call to action!
Ever found yourself contemplating the nature of a tattoo convention or what to anticipate at such an event? The New England Tattoo Convention in Massachusetts is a dynamic amalgamation of body art and culture that magnetizes tattoo enthusiasts from every corner of the region.
Massachusetts' tattoo conventions are a unique fusion of art exhibition, trade fair, and social gathering. They present a panorama of tattoo styles, a chance to engage with gifted artists, and even an opportunity to receive a tattoo right at the convention. If you've been on the hunt for a local Massachusetts tattoo convention to get inked, your search ends here.
The New England Tattoo Convention transcends the concept of a mere "tattoo show in Massachusetts". It's an expo, a festival, a unique cultural immersion that caters to both the seasoned collector and the intrigued novice.
The convention is a treasure trove of activities and attractions. Live tattooing demonstrations, seminars on tattoo history and technique, and an array of vendor booths selling tattoo-related merchandise are just a few of the offerings. And let's not forget the live music and entertainment.
For those in Boston seeking a local "tattoo expo" or "tattoo festival", the short journey to the New England Tattoo Convention is well worth the effort. Frequently lauded as the "best tattoo convention in Massachusetts", it showcases the crème de la crème of the tattoo industry, from traditional and tribal to contemporary and experimental styles.
A key highlight of the convention is the tattoo competition, where artists display their finest work across various categories. It's a spectacle of breathtaking artistry and perhaps a source of inspiration for your next tattoo.
And if you're a newcomer to the tattoo world, fear not. The convention is a welcoming haven for all. You can learn about the tattooing process, ask questions, and even schedule your first session. Remember, every convention-goer embarked on their tattoo journey at some point!
For further details about the New England Tattoo Convention, including dates, ticket prices, and a roster of participating artists, visit High Life Show. It's your comprehensive guide to all things convention-related.
For a mere $500, you can secure a 12′ x 12′ booth equipped with electricity, tables, and chairs for three days. For $800, you can enjoy the convenience of a booth and a two-night hotel stay on the property. Two artists can comfortably share a space, and the permit fee is a nominal $25 per artist.
The festival promises a weekend filled with tattoo programming. If you know a tattooer or artist who might be interested, feel free to share this message.
The event is curated by Gabe Ripley. For inquiries, reach out to Gabe@TattooNOW.com.
Join us for a gathering of highly functional people. Dispensaries, brands, growers, genetics, CBD, hemp, accessories, artists, innovators, and influencers are all welcome. This is a space for consumers of the High Life Style, and lovers of music, arts, and popular culture.
This is more than just a convention for cannabis and ink fans. It's a hybrid tradeshow for cannabis brands and growers. Enjoy open consumption outdoors, sampling, and tasting. Please note, you must be at least 21 years of age to enter.
Live music will be playing all weekend. Check out pictures from last year's show on our website.
Parking is free. Stay connected with us on Twitter, Facebook, and our website.
Whether you're a tattoo enthusiast or just curious about the art form, the New England Tattoo Convention in Massachusetts is an event not to be missed. It's more than just a "tattoo show in Boston" or a "tattoo expo in Massachusetts". It's a celebration of art, culture, and community. So, why delay? Begin planning your visit to Massachusetts' finest tattoo convention today!
Celebrity guests, vendors, ink supplies, original art, tattoo programing, and so much MORE! Stay tuned for updated information as it becomes available!
You must be at least 21 years of age to enter the private property.
WHAT TO EXPECT
We will offer exhibitors and vendors a fun environment to meet qualified customers who are interested in canna related products, services and creative arts. There will be no THC products for sale on property
As a business conference, one of our goals is to have businesses, entrepreneurs and brands to be able to meet the distributors, retailers and consumers in an entertaining, safe environment. Retail distributors can promote their products and retail locations in order to compete to attract new customers. Artists can find new fans. Craft growers can network to find supplies they may need to be an at-home botanist, or find outlets or job opportunities.
As a LifeStyle conference, we will be showcasing all aspects of the canna inspired culture including health, wellness, music, art, clothing, literature, food, cultivation, supplies, medical, educational and ancillary aspects including cannabis weddings and travel.
There will be two levels of participation involving access to indoor and outdoor activities. All attendees will be able to access all of the Exhibitors indoors and out.
THERE WILL BE NO SELLING ANYTHING IN VIOLATION OF MASSACHUSETTS LAW.
THIS LOCATION IS NOT A DISPENSARY.
The HighLifeStyle Show September 22-24, 2023
The Boxboro Regency Hotel and Conference Center, 242 Adams Pl, Boxborough, MA 01719 Boxborough, MA