Tattoo Arts Festival at The HighLifeStyleShow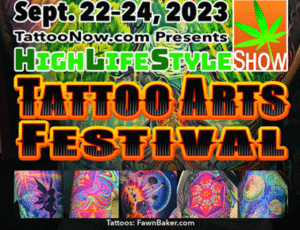 The HighLifeStyleShow will be a gathering of brands, dispensaries, distributors, growers, artists, performers and consumers to converge in the HighLifeStyle of B2B and B2C in a resort hotel conference setting with exhibitors, vendors, concerts, comedy, education, celebrities, socializing and networking.
This year, the HighLifeStyle Show welcomes TattooNow.com, presenting the Tattoo Arts Festival!
Celebrity guests, vendors, ink supplies, original art, tattoo programing, and so much MORE! Stay tuned for updated information as it becomes available!
You must be at least 21 years of age to enter the private property.
Tattoo Arts Festival

September 22-24, 2023
Boxboro Regency Hotel, Boxborough, MA

A Gathering of
HIGHLY FUNCTIONAL PEOPLE
Dispensaries, Brands, Growers, Genetics, CBD, Hemp, Accessories,
Artists, Innovators, and Influencers
Consumers of the High Life Style
Music, Arts and Popular Culture
A Cannabis Fan Convention
A Hybrid Tradeshow for Cannabis Brands and Growers
Plus
TattooNOW presents
Included in Admission
Over 40 Curated Ink Artists
Tattoo Programming All Weekend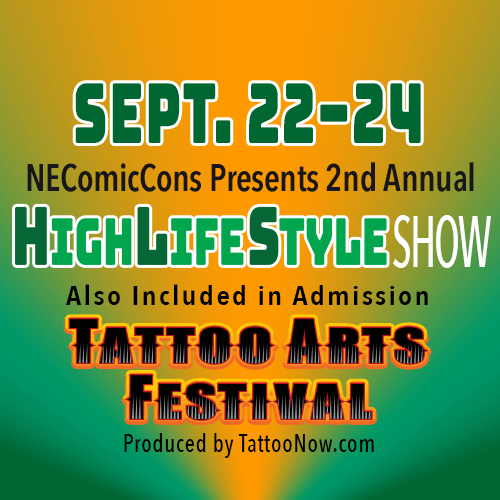 Frequently Asked Questions
Do I need to be 21+ and is the show open to the public?
The show is open to the public, 21 years old or older with ID
Do I have to bring my ticket to the event?
You will need a copy of the ticket, printed or on your phone.
Can I leave & re-enter?
Yes, unlimited re-entry for the day of the show with a show wristband.
Can I bring/use cannabis to the event?
Yes – consumption will be permitted in all outside spaces. Possession and use of cannabis MUST be in compliance with Massachusetts law.
Is my registration/ticket transferable?
Yes – anyone over 21 can use your ticket.
What is the refund policy?
All ticket sales are final, with no refunds.
The High Lifestyle Show September 22-24, 2023
The Boxboro Regency Hotel and Conference Center, Boxborough, MA
Tickets available soon!
WHAT TO EXPECT
We will offer exhibitors and vendors a fun environment to meet qualified customers who are interested in canna related products, services and creative arts. There will be no THC products for sale on property
As a business conference, one of our goals is to have businesses, entrepreneurs and brands to be able to meet the distributors, retailers and consumers in an entertaining, safe environment. Retail distributors can promote their products and retail locations in order to compete to attract new customers. Artists can find new fans. Craft growers can network to find supplies they may need to be an at-home botanist, or find outlets or job opportunities.
As a LifeStyle conference, we will be showcasing all aspects of the canna inspired culture including health, wellness, music, art, clothing, literature, food, cultivation, supplies, medical, educational and ancillary aspects including cannabis weddings and travel.
There will be two levels of participation involving access to indoor and outdoor activities. All attendees will be able to access all of the Exhibitors indoors and out.
THERE WILL BE NO SELLING ANYTHING IN VIOLATION OF MASSACHUSETTS LAW.
THIS LOCATION IS NOT A DISPENSARY.
242 Adams Pl, Boxborough, MA 01719