As the cannabis industry continues to evolve, there also needs to be a space to celebrate and learn from the best and brightest in the industry. This is where the HighLifeStyle Show begins.
The HighLifeStyle Show welcomes Gage Cannabis Co., one of the Commonwealth's premier adult-use cannabis retailers.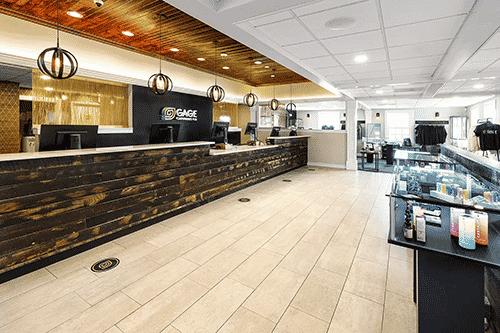 A cannabis retailer in Ayer, Massachusetts, they offer a premium experience with a wide selection of the best cannabis and cannabis-infused products available at dispensaries throughout Massachusetts.
With the help of a "terp-tender," you can determine your perfect terpene profile and use that information to pick out strains with confidence. Knowing which terpenes are best allows you to tailor your cannabis consumption to your specific needs and desires.
During your stay at the HighLifeStyle Show, visit booth 252, take a moment and sign up to become a member of our VIP club. You'll be the first to get notified of all new products as soon as they hit the shelves, As a VIP Club member, you'll be the first to get up-to-date news about all the new products as they hit the shelves, as well as receive exclusive offers only available to VIP members.
You will receive a notification when the products you have pre-ordered need to be replaced to ensure your satisfaction every time you visit Gage. You'll get advance notice of all events and pop-ups in-store and off-site, giving you plenty of time to plan and join the fun. You'll receive notifications of store hours changes due to weather emergencies or other unforeseen events, saving you time and effort when disruptions may occur. You will receive a notification when the product you have pre-ordered needs to be replaced to ensure your satisfaction every time you visit Gage. You'll get advance notice of all events and pop-ups in-store and off-site, like our booth at the HighLifeStyle Show giving you plenty of time to plan and join the fun.
Gage's CEO and Founder John Hillier, an 8-year veteran within the cannabis industry, opened one of the Commonwealth's first medical cannabis stores: Central Ave Compassionate Care, Inc. Central Ave began serving patients in November 2015. A year later, the adult retail service was endorsed by Massachusetts voters. This is where the organizing plans for Gage Cannabis begin. After purchasing a building, equipping it to retail marijuana, and applying for a state permit, the store opened in the autumn of 2019. Gage Cannabis Co., Ayer, MA OPEN Sunday-Wednesday, 10 am – 8 pm Thursday-Saturday 10 am – 9 pm.
A unique way to learn about terpenes and cannabinoids in Massachusetts  – Located inside the dispensary at Gage. you will find The Aroma Bar.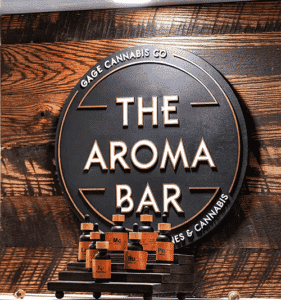 After Gage opened in September 2019, Hillier quickly realized that consumers were making their purchasing decisions without much experience in navigating the wide selection of products available.
Gage Cannabis Co has launched a unique new educational experience called "The Aroma Bar" in the dispensary. Gage's Aroma Bar is a cozy space where consumers are invited to consult with a professionally trained "terp-tender" who provides scent samples and explanations of individual terpenes. By combining an understanding of the terpenes and the terpene profiles of the flowers available, consumers can confidently choose the product that best suits the desired effect.
Terpenes are a class of compounds that produce the aroma and flavor of many plants, including but not limited to cannabis. Cannabis terpenes also help guide the effects the user will experience. Strains with a higher concentration of linalool (a terpene also commonly found in lavender) tend to be more relaxing and sedative than strains with a higher concentration of limonene (a terpene commonly found in citrus fruits) and tends to have a mood-elevating effect.
Gage's commitment to only offering the highest quality products has announced that it will only carry cannabis flowers from growers who are able to provide terpene data. Currently, Massachusetts regulations require licensed cannabis growers to test for cannabinoid content, and while terpene testing is available, it is optional.
A premium adult-use cannabis retailer in Ayer, Massachusetts, their mission is to provide customers with the widest selection of the finest cannabis and cannabis-infused products available in Massachusetts. A locally owned and operated company, Gage strives to do this in a way that respects the community, employees, customers, and the plant itself. Gage is located in Ayer, Massachusetts and is open Sunday through Wednesday from 10 a.m. to 8 p.m. and Thursday through Saturday from 10 a.m. to 9 p.m. Visit www.gagecannabisco.com for more information.

About The HighLifeStyle Show
The High Lifestyle Show October 7-9, 2022
The Boxboro Regency Hotel and Conference Center, Boxborough, MA
Tickets are available now!
You must be at least 21 years of age to enter the private property.
The HighLifeStyle Show will be over 30,000 sq ft indoor and outdoor gathering of brands, dispensaries, distributors, growers, artists, performers, and consumers to converge in the HighLifeStyle of B2B and B2C in a resort hotel conference setting with exhibitors, vendors, concerts, comedy, education, celebrities, socializing and networking.
The HighLifeStyle Show offers exhibitors and vendors a fun environment to meet qualified customers who are interested in canna-related products, services, and creative arts.
As a business conference, one of our goals is to have businesses, entrepreneurs, and brands be able to meet the distributors, retailers, and consumers in an entertaining, safe environment. Retail distributors can promote their products and retail locations in order to compete to attract new customers. Artists can find new fans. Craft growers can network to find supplies they may need to be an at-home botanist, or find outlets or job opportunities.
As a LifeStyle conference, we will be showcasing all aspects of the canna-inspired culture including health, wellness, music, art, clothing, literature, food, cultivation, supplies, medical, educational, and ancillary aspects including cannabis weddings and travel.
There will be two levels of participation involving access to indoor and outdoor activities. All attendees will be able to access all of the Exhibitors indoors and out.
Live Music On The Main Stage Outdoors All Weekend Long Includes
The Wailers, Roots of Creation, Brett Wilson, Mikaela Davis, Barrence Whitfield, Walter Sickert & The Army of Broken Toys, Tsunami of Sound, Justine's Black Threads, and more.
Laugh your bud off with LIVE Comedy & Stand-up
Starring Matt Barry, Mona Forgione, Ian Stuart, and Josh Day will be performing standup comedy, all weekend long.
Click Here For more info on Exhibitor Space or Sponsorship, or email:
Marc@NECANN.com or GarySohmers@gmail.com
THERE WILL BE NO SELLING ANYTHING IN VIOLATION OF MASSACHUSETTS LAW. THIS LOCATION IS NOT A DISPENSARY.
About the Venue
Make it a vacation and stay for the weekend! Boxboro Regency Hotel (978) 263-8701 Located in a rural area near several corporate offices, this simple conference hotel is 1 mi (1.6 km) from I- 95 and within 1 mi (2 km) of Oxbow National Wildlife Refuge. 9 km and 33 km from downtown Boston. The warm, traditionally furnished rooms feature free Wi-Fi access, a flat-screen TV, a coffee maker, and a seating area. Higher-class rooms have mini-fridges and/or a balcony or terrace overlooking the pool. Suites also include sofa beds and microwaves, while higher-end suites have separate living rooms.
While there are many pleasant restaurants close to our hotel, we are happy to offer guests delicious on-site dining options. Enjoy breakfast, lunch or dinner at our casual restaurant Minuteman Grille American Pub. You can also enjoy a delicious meal served directly in your room.
Amenities consist of a tropical atrium with a fountain, free Wi-Fi, free parking, disabled access, an indoor pool, a restaurant, bars, room service, and air conditioning. Refrigeration, Airport Shuttle, Pets Allowed, Dogs Allowed (please call hotel for more information). information 978-263-8701). In addition, for hotel guests, we provide a fully equipped fitness center that includes changing rooms and showers, treadmills, ellipticals, stationary bikes, and free weights. . Stay in control of your business with our on-site business center, which offers computer, printer, and fax services.
The hotel restaurant, bars, and indoor restrooms are also exclusive to VIPs, Hotel guests, and Exhibitors.
VIP Live Concerts including Roots of Creation appearing in Concert on Friday, October 7, 2022, at 4:00 pm – also Brett Wilson solo set Friday Evening – Special Show only for VIPs, Exhibitors and Hotel Guests and Mikaela Davis with her band Southern Star will be performing in concert Saturday, Oct. 8 on the main stage outdoors – Mikaela Davis will be performing a special solo concert for VIPs, Exhibitors and Hotel Guests with More VIP Activities To Be Announced.
Gage Cannabis Co – Massachusetts Premium Adult-Use Cannabis Retailer