If you like your comedy with a side of sarcasm, (and a dash of cannabis) than Matt Barry will be the perfect fit for your funny bone.
Matt has been using cannabis and performing standup comedy for as long as he can remember, which is about ten years. He's performed in clubs, theaters, bars and apartments. In 2013, he won "New England's Best Bar Comic". In 2015, he was a finalist in Comix Comedy Club's "Last Comix Standing". In 2021 he was a finalist in "New England's Funniest Comedian". And in 2022, he was named one of New Hampshire's best comedians by Hippo Magazine. He's appeared on SiriusXM Satellite Radio and has opened for national acts including Tom Green and the late Gilbert Gottfried.
Now is your chance to see Matt Barry perform live this October 7-9th, head on over to The HighLifeStyle Show.
Find Matt online!
Twitter & Instagram: @MattBarrySucks
Official Website: https://www.mattbarrycomedy.com/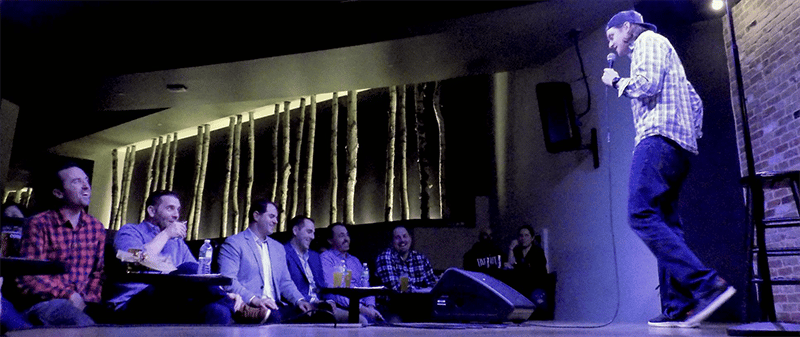 About the The HighLifeStyle Show
The HighLifeStyle Show October 7-9, 2022
The Boxboro Regency Hotel and Conference Center, Boxborough, MA
Tickets available now!
You must be at least 21 years of age to enter the private property.
The HighLifeStyle Show is a convention with more than 30,000 square feet of indoor and outdoor space that brings together brands, dispensaries, distributors, growers, artists, performers, and consumers to converge in the HighLifeStyle of B2B and B2C in a resort hotel conference setting with exhibitors, vendors, concerts, comedic performances, educational sessions, and celebrities. networking and socializing.
The HighLifeStyle Show provides exhibitors and suppliers with a friendly setting to engage with customer base interested in canna-related goods, services, and artistic endeavors. No THC-related goods shall be offered for sale on the premises.
One of our objectives as a business conference is to provide a fun and secure setting for companies, entrepreneurs, and brands to interact with distributors, retailers, and customers. Retail distributors can advertise their goods and retail spaces to compete for new clientele. New customers can be found by artists. Craft producers might use networking to locate the tools they would need to become at-home botanists, as well as to find markets or employment prospects.
We will be displaying all facets of the cannabis-inspired culture as a Lifestyle expo, including health, wellness, music, art, clothes, literature, food, growing, supplies, medical, educational, and other components like cannabis friendly weddings services, travel travel agents,  events and more.
Access to both indoor and outdoor activities will be available at two different levels of participation. All of the exhibitors, both inside and outside, will be accessible to all participants.
Live Concerts – The Wailers, Jon Butcher Axis, Roots of Creation, Brett Wilson, Mikaela Davis, Barrence Whitfield, Walter Sickert & The Army of Broken Toys, Tsunami of Sound, Justine's Black Threads, and other artists will perform live music outdoors on the main stage throughout the weekend.
Laugh your bud off with LIVE Comedy & Stand-up
Staring Matt Barry, Mona Forgione, Ian Stuart, Josh Day will be performing standup comedy, all weekend long.
Click Here For more info on Exhibitor Space or Sponsorship, or email:
Marc@NECANN.com or GarySohmers@gmail.com
THERE WILL BE NO SELLING ANYTHING IN VIOLATION OF MASSACHUSETTS LAW. THIS LOCATION IS NOT A DISPENSARY.
About the Venue
Make it a weekend getaway by staying! Hotel Boxboro Regency  (978) 263-8701  The comfortable rooms come equipped with complimentary Wi-Fi, a flat-screen TV, a coffee machine (ask for it at the time of check in),   Higher-level rooms have balconies or terraces with views of the pool.  Suites come with mini-fridges, microwaves, sofa beds, and in higher-end suites, separate living areas.
Despite the fact that there are many great eateries in the area, we are glad to provide our visitors with scrumptious on-site dining options. Visit our casual eatery Minuteman Grille American Pub for breakfast, lunch, or dinner or night-cap. A delectable supper can be ordered and delivered right to your room.
A tropical atrium with a fountain, free WiFi, free parking, handicap accessibility, an indoor pool, a restaurant, a bar, room service, and air conditioning are included as amenities. Pets Allowed (please contact us first), Airport Shuttle, Refrigeration, and Dogs Allowed (please call the hotel for further details).  (978-263-8701). Additionally, we offer a fully supplied exercise center with showers, locker rooms, treadmills, ellipticals, stationary bikes, and free weights for hotel guests. With our on-site business center's access to computers, printers, and fax machines, you can maintain control over your company.
VIPs, hotel guests, and exhibitors are allowed in the hotel's restaurant, bar, and indoor restrooms. 
Roots of Creation and Brett Wilson will perform solo sets on Friday, October 7, 2022 at 4:00 p.m.; Mikaela Davis and her band Southern Star will perform in concert on Saturday, October 8, on the main stage outdoors; Mikaela Davis will perform a special solo concert for VIPs, Exhibitors, and Hotel Guests; and there will be additional VIP activities that will be announced.
Comedy With A Side Of Sarcasm – Matt Barry Live Oct. 7-9th Boxborough, MA