Bill Diamond began his career in the entertainment industry as a child actor. Now, he's an Emmy Award Winning puppeteer, artist, and creator.
As a teenager in High School, he created his own stop-motion animation films, ran his own theatre company, and began building puppets. At the age of twenty-three, Diamond was introduced to Muppet's creator, Jim Henson. In 1976, Diamond created his production company, Bill Diamond Productions. Diamond produced and directed multiple television series in the 80's and 90's including, Stuffy's Place, The Land of the Moonshins, and Dr. Rock's Dinosaur Adventures, which appeared on Fox. He was also the associate producer of the documentaries, The Phantom of the Opera: Unmasking the Masterpiece, and The Aurora Monsters: The Model Craze That Gripped the World.
The off-Broadway version of Audrey 2, the carnivorous plant from Little Shop of Horrors, was originally created by Sesame Street puppeteer Martin P. Robinson. The play became extremely popular, and in 1984, Diamond was hired to build and puppeteer Audrey 2, and still operates the giant plant puppet for the Little Shop of Horrors road tours to this day – which will be at the HighLifeStyle Show Oct. 7-9 for photo ops, along with numerous other famous puppets and characters for you social media feed.
In 2016, The Jim Henson Company sponsored a fan film competition held on The Dark Crystal website. The competition invited fans to create and submit animated short films inspired by the Jim Henson film. Bill Diamond Productions submitted a short film for the competition titled, "Rise of the Skeksis", and received an honorable mention.
In 2021, the first episode of the Toking with the Dead series was released to the public. This production, directed and produced by Diamond, and based on the comic book of the same name, is a series based on educating through adult humor the positive effects of medical cannabis.
About The High Lifestyle Show October 7-9, 2022 
October 7-9, 2022
The Boxboro Regency Hotel and Conference Center, Boxborough, MA
Tickets are available now!
You must be at least 21 years of age to enter the private property.

There will be over 30,000 sq ft indoor and outdoor gathering of brands, dispensaries, distributors, growers, artists, performers, and consumers to converge in the HighLifeStyle of B2B and B2C in a resort hotel conference setting with exhibitors, vendors, concerts, comedy, education, celebrities, socializing and networking.
Live Music On The Main Stage Outdoors All Weekend Long Includes
The Wailers, Roots of Creation, Jon Butcher Axis, Brett Wilson, Mikaela Davis, Barrence Whitfield, Walter Sickert & The Army of Broken Toys, Tsunami of Sound, Justine's Black Threads, and more.
Laugh your bud off with LIVE Comedy & Stand-up
Starring Matt Barry, Mona Forgione, Ian Stuart, and Josh Day will be performing standup comedy, all weekend long.
Click Here For more info on Exhibitor Space or Sponsorship, or email:
Marc@NECANN.com or GarySohmers@gmail.com
About the Venue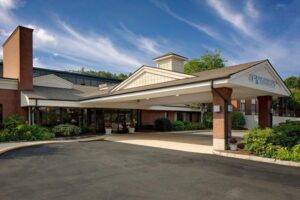 Boxboro Regency Hotel (978) 263-8701 Located in a rural area near several corporate offices, this conference hotel is 1 mi (1.6 km) from I- 95 and within 1 mi (2 km) of Oxbow National Wildlife Refuge. A 20-minute drive from downtown Boston. The warm, traditionally furnished rooms feature free Wi-Fi access, a flat-screen TV, a coffee maker, and a seating area. Higher classrooms have mini-fridges and/or a balcony or terrace overlooking the pool. Suites also include sofa beds and microwaves, while higher-end suites have separate living rooms. The on-site full-service restaurant is open for breakfast, lunch, and dinner and serves modern American fare. Guests can unwind on the indoor pool deck. Additional amenities include an exercise facility and an indoor pool. The hotel provides free parking and is pet friendly.
While there are many pleasant restaurants close to our hotel, we are happy to offer guests delicious on-site dining options. Enjoy breakfast, lunch, or dinner at our casual restaurant Minuteman Grille American Pub. You can also enjoy a delicious meal served directly in your room.
Amenities consist of a tropical atrium with a fountain, free Wi-Fi, free parking, disabled access, an indoor pool, a restaurant, a bar, room service, and air conditioning. Refrigeration, Airport Shuttle, Pets Allowed, Dogs Allowed (please call hotel for more information 978-263-8701). In addition, for hotel guests, we provide a fully equipped fitness center that includes changing rooms and showers, treadmills, ellipticals, stationary bikes, and free weights. Stay in control of your business with our on-site business center, which offers computer, printer, and fax services.
Meet Emmy Winning Puppeteer, Artist, Creator Bill Diamond Oct. 7-9 2022