(He) is a rarity in this business–one of a few black, rock n roll singers/entertainers who, Spin Magazine says, maintains a frenzied performance. Whitfield is a performer so consumed with satisfying his audiences that he has been called 'crazed, frenetic and completely unhinged.' Barrence, the singer made up of equal parts Arthur Alexander, Nolan Porter, and James Carr, this mofo burns.' –  BLOODSHOT RADIO
A soul and R&B singer best known as the frontman for Barrence Whitfield & the Savages. Barrence will be performing LIVE in an outdoor concert on Saturday, Oct. 8. You must be at least 21 years of age to enter the private property.  Tickets are available now!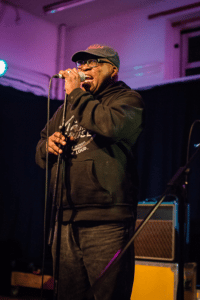 In the 1990s, he recorded two albums with country music singer-songwriter Tom Russell and contributed tracks to tribute albums to Merle Haggard and Don Covay. 1995 saw the release of Ritual of the Savages. A New Hampshire-based jump blues and rockabilly octet, The Movers, recruited him in 1997 and he has performed throughout the UK and Europe. He has also contributed to film scores, including Honeydripper from 2007.
With Andy Jody (Gazelles!, Pearlene, Oxford Cotton, Long Gones) and saxophonist Tom Quartulli, Whitfield, Peter Greenberg (DMZ, Lyres, Customs), and Phil Lenker (Lyres), Barrence Whitfield and The Savages performed two live shows in December 2010 and recorded a brand-new album.  Savage Kings was released on Munster Records in Spain and Shake It Records in the US. In September 2013, Whitfield released Dig Thy Savage Soul on Bloodshot Records.  Whitfield toured Europe and appeared on Jools Holland Show on the BBC. Whitfield described Under the Savage Sky as "giving the kids a musical karate chop to the head." A follow-up album was recorded in January 2015 at UltraSuede studios and released in August of that year. A third Bloodshot album followed in 2018, Soul Flowers of Titan.
Modern Harmonic released Barrence Whitfield and the Soul Savage Arkestra: Songs from the Sun Ra Cosmos on May 3, 2019. Sun Ra's idiosyncratic covers of his songs make up this album. In addition to collaborations with the Concussion Ensemble, Waitiki, Milton Reder, and others, this album was co-produced by Irwin Chusid and Brother Cleve and recorded over a period of 25 years.
Credits Include:
1984 – Barrence Whitfield and the Savages, Mamou
1985 – Dig Yourself, Rounder
1987 – Call of the Wild EP, UK Demon/Rounder
1987 – Ow! Ow! Ow!, Rounder
1989 – Live Emulsified, Rounder
1990 – Let's Lose It, France, New Rose
1992 – Savage Tracks, France, New Rose
1993 – Cowboy Mambo (with Tom Russell), East Side Digital
1993 – Hillbilly Voodoo (with Tom Russell), East Side Digital
1995 – Ritual of the Savages, Ocean Music
2011 – Savage Kings, Munster Records, rereleased, Shake It Records
2013 – Dig Thy Savage Soul, Bloodshot Records
2015 – Under The Savage Sky, Bloodshot Records
2018 – Soul Flowers of Titan, Bloodshot Records
2019 – Barrence Whitfield and the Soul Savage Arkestra: Songs from the Sun Ra Cosmos, Modern Harmonic
About the show
October 7-9, 2022
The Boxboro Regency Hotel and Conference Center, Boxborough, MA
Tickets are available now!
You must be at least 21 years of age to enter the private property.

There will be over 30,000 sq ft indoor and outdoor gathering of brands, dispensaries, distributors, growers, artists, performers, and consumers to converge in the HighLifeStyle of B2B and B2C in a resort hotel conference setting with exhibitors, vendors, concerts, comedy, education, celebrities, socializing and networking.
Offering exhibitors and vendors a fun environment to meet qualified customers who are interested in canna-related products, services, and creative arts.
As a business conference, one of The HighLifeStyle Show's goals is to have businesses, entrepreneurs, and brands will be able to meet the distributors, retailers, and consumers in an entertaining, safe environment. Retail distributors can promote their products and retail locations in order to compete to attract new customers. Artists can find new fans. Craft growers can network to find supplies they may need to be an at-home botanist, or find outlets or job opportunities.
As a LifeStyle conference, we will be showcasing all aspects of the canna-inspired culture including health, wellness, music, art, clothing, literature, food, cultivation, supplies, medical, educational, and ancillary aspects including cannabis weddings and travel.
There will be two levels of participation involving access to indoor and outdoor activities. All attendees will be able to access all of the Exhibitors indoors and out.
Live Music On The Main Stage Outdoors All Weekend Long Includes
The Wailers, Roots of Creation, Jon Butcher Axis, Brett Wilson, Mikaela Davis, Barrence Whitfield, Walter Sickert & The Army of Broken Toys, Tsunami of Sound, Justine's Black Threads, and more.
Laugh your bud off with LIVE Comedy & Stand-up
Starring Matt Barry, Mona Forgione, Ian Stuart, and Josh Day will be performing standup comedy, all weekend long.
Click Here For more info on Exhibitor Space or Sponsorship, or email:
Marc@NECANN.com or GarySohmers@gmail.com
About the Venue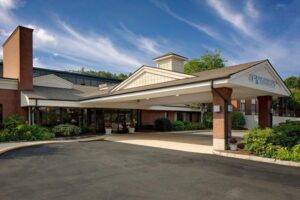 Boxboro Regency Hotel (978) 263-8701 Located in a rural area near several corporate offices, this conference hotel is 1 mi (1.6 km) from I- 95 and within 1 mi (2 km) of Oxbow National Wildlife Refuge. A 20-minute drive from downtown Boston. The warm, traditionally furnished rooms feature free Wi-Fi access, a flat-screen TV, a coffee maker, and a seating area. Higher classrooms have mini-fridges and/or a balcony or terrace overlooking the pool. Suites also include sofa beds and microwaves, while higher-end suites have separate living rooms. The on-site full-service restaurant is open for breakfast, lunch, and dinner and serves modern American fare. Guests can unwind on the indoor pool deck. Additional amenities include an exercise facility and an indoor pool. The hotel provides free parking and is pet friendly.
While there are many pleasant restaurants close to our hotel, we are happy to offer guests delicious on-site dining options. Enjoy breakfast, lunch or dinner at our casual restaurant Minuteman Grille American Pub. You can also enjoy a delicious meal served directly in your room.
Amenities consist of a tropical atrium with a fountain, free Wi-Fi, free parking, disabled access, an indoor pool, restaurant, bar, room service, and air conditioning. Refrigeration, Airport Shuttle, Pets Allowed, Dogs Allowed (please call hotel for more information 978-263-8701). In addition, for hotel guests, we provide a fully equipped fitness center that includes changing rooms and showers, treadmills, ellipticals, stationary bikes, and free weights. Stay in control of your business with our on-site business center, which offers computer, printer, and fax services.
Barrence Whitfield Concert On The Main Stage Outdoors on Saturday Oct. 8