Discover why Path Vacations home resorts are the premier "drive-to" vacation destination in New England.
Luxury resorts located in NH. We aim to create an environment where you can relax, unwind, and renew amidst the magnificent landscapes of New England. Considered to be the premiere "drive-to" destination for metro New York, Boston, Providence, and beyond, their resorts offer year-round vacation experiences for families, couples, and everyone in between. From the plush, rolling hills of New Hampshire's Lakes Region to 360-degree views of Lake Winnipesaukee, our guests and members can forget the worries of everyday life and spend time creating lifelong memories. Formally Steele Hill Vacation Club.
We believe that everyone should experience great vacations, and at Path Vacations, quality is what sets us apart from the rest. With 3 of the finest resorts in New England, we offer our guests and members spacious condo or suite-style accommodations, as well as top-tier amenities including pools, golf, tennis, fine dining, and so much more. Set in the heart of New Hampshire's beautiful Lakes Region, our resorts are your home away from home, as well as your gateway to thousands of other exciting destinations worldwide. We invite you to come to visit, join the club, and start enjoying the best, stress-free vacations you've ever had.
Discover why Path Vacations' home resorts are the premier "drive-to" vacation destination in New England. With year-round activities from breathtaking fall foliage and winter sports adventures to springtime maple-sugaring and summer lake activities, there is something for everyone here in the heart of New Hampshire's beautiful Lakes Region.

Steele Hill Resort – Our flagship resort, Steele Hill Resort is a beautiful hilltop vacation resort set among 500 acres of serene New England forest and meadows. Guests and members enjoy magnificent panoramic views of Lake Winnipesaukee and Lake Winnisquam outlined by the Belknap, Sandwich, Ossipee, and White Mountain ranges. Set within natural conservation land, boasting a wide variety of on-site amenities, and surrounded by endless activity options, Steele Hill Resort provides one of the best resort experiences in New England.
The Summit Resort – The Summit Resort is just a short distance from the majestic Lake Winnipesaukee, and right in the heart of the exciting Weirs Beach area. Ideal for families, our spacious suites provide room for six guests with the convenience of a full kitchen and dining area.
Lake Winnipesaukee and 4 nearby mountain ranges, including the White Mountains, are the perfect setting for outdoor activities, scenic drives, shopping, and dining. In the summer, take a stroll down to Weirs Beach on lake Winnipesaukee, while the winter is the best time to visit Gunstock Ski Mountain, which is just 10 minutes away.
The 25,000-square-foot Amenity Center at the resort includes pools, water slides, a fitness center, and much more.
The Center Harbor Inn – Located in the charming New Hampshire town of Center Harbor, The Center Harbor Inn is the newest edition to the Steele Hill Group's boutique resort portfolio with a 'roll out of bed' beach and lake access. Guests and members will enjoy newly updated room accommodations that mix rustic and modern styles. Best of all, the hotel is on a sandy, 175-foot beach on the north shore of Lake Winnipesaukee, and has a dock with slips for 16 boats with space for eight more boats in the mooring field. Located near excellent restaurants, boutique shopping, and all of the necessities. Outdoor enthusiasts will revel in the nearby hiking options and explore the bay on kayaks and paddleboards at their leisure.
Centrally located in town, the Center Harbor Inn is easily the best lakeside resort in the entire region, with a multitude of activities, shopping, and dining options just steps away. Leave the hustle and bustle of the city behind in exchange for a relaxing getaway on the shores of Lake Winnipesaukee.
Visit our booth #239 and discover why Path Vacations home resorts are the premier "drive-to" vacation destination in New England.
About The HighLifeStyle Show
Frequently Asked Questions
Do I need to be 21+ and is the show open to the public?
The show is open to the public, 21+ NO EXCEPTIONS.
Do I have to bring my ticket to the event?
You will need a copy of the ticket, printed or on your phone.
Can I leave & re-enter?
Yes, unlimited re-entry for the day of the show with a badge.
Can I bring/use cannabis to the event?
Yes – consumption will be permitted in all outside spaces. Possession and use of cannabis MUST be in compliance with Massachusetts law.
Is my registration/ticket transferable?
Yes – anyone over 21 can use your ticket.
What is the refund policy?
All ticket sales are final, with no refunds.
The High Lifestyle Show October 7-9, 2022
The Boxboro Regency Hotel and Conference Center, Boxborough, MA
Tickets are available now!
You must be at least 21 years of age to enter the private property.
There are a lot of reasons that we will be at the HighLifeStyle Show in Boxborough from Oct. 7 to Oct. 9, and the fact that the Dig is co-sponsoring a tent with the Weed Game Show, Boston Baked Bingo, a DJ Slim performance, yoga, and other activities is just one of them.
The lineup for the weekend is also spectacular beyond our wildest weeded dreams. As we announced earlier, the Wailers will be headlining the music stage, and Cheech Marin himself will also be on-site meeting fans.

The HighLifeStyle Show will be over 30,000 sq ft indoor and outdoor gathering of brands, dispensaries, distributors, growers, artists, performers, and consumers to converge in the HighLifeStyle of B2B and B2C in a resort hotel conference setting with exhibitors, vendors, concerts, comedy, education, celebrities, socializing and networking.
The HighLifeStyle Show offers exhibitors and vendors a fun environment to meet qualified customers who are interested in canna-related products, services, and creative arts.
As a business conference, one of our goals is to have businesses, entrepreneurs, and brands be able to meet the distributors, retailers, and consumers in an entertaining, safe environment. Retail distributors can promote their products and retail locations in order to compete to attract new customers. Artists can find new fans. Craft growers can network to find supplies they may need to be an at-home botanist, or find outlets or job opportunities.
As a LifeStyle conference, we will be showcasing all aspects of the canna-inspired culture including health, wellness, music, art, clothing, literature, food, cultivation, supplies, medical, educational, and ancillary aspects including cannabis weddings and travel.
There will be two levels of participation involving access to indoor and outdoor activities. All attendees will be able to access all of the Exhibitors indoors and out.
Live Music On The Main Stage Outdoors All Weekend Long Includes
The Wailers, Roots of Creation, Brett Wilson, Mikaela Davis, Barrence Whitfield, Walter Sickert & The Army of Broken Toys, Tsunami of Sound, Justine's Black Threads, and more.
Laugh your bud off with LIVE Comedy & Stand-up
Starring Matt Barry, Mona Forgione, Ian Stuart, and Josh Day will be performing standup comedy, all weekend long.
Click Here For more info on Exhibitor Space or Sponsorship, or email:
Marc@NECANN.com or GarySohmers@gmail.com
THERE WILL BE NO SELLING ANYTHING IN VIOLATION OF MASSACHUSETTS LAW. THIS LOCATION IS NOT A DISPENSARY.
About the Venue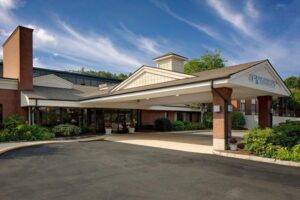 Make it a vacation and stay for the weekend! Boxboro Regency Hotel (978) 263-8701 Located in a rural area near several corporate offices, this simple conference hotel is 1 mi (1.6 km) from I- 95 and within 1 mi (2 km) of Oxbow National Wildlife Refuge. 9 km and 33 km from downtown Boston. The warm, traditionally furnished rooms feature free Wi-Fi access, a flat-screen TV, a coffee maker, and a seating area. Higher-class rooms have mini-fridges and/or a balcony or terrace overlooking the pool. Suites also include sofa beds and microwaves, while higher-end suites have separate living rooms.
While there are many pleasant restaurants close to our hotel, we are happy to offer guests delicious on-site dining options. Enjoy breakfast, lunch, or dinner at our casual restaurant Minuteman Grille American Pub. You can also enjoy a delicious meal served directly in your room.
Amenities consist of a tropical atrium with a fountain, free Wi-Fi, free parking, disabled access, an indoor pool, a restaurant, bars, room service, and air conditioning. Refrigeration, Airport Shuttle, Pets Allowed, Dogs Allowed (please call hotel for more information). information 978-263-8701). In addition, for hotel guests, we provide a fully equipped fitness center that includes changing rooms and showers, treadmills, ellipticals, stationary bikes, and free weights. . Stay in control of your business with our on-site business center, which offers computer, printer, and fax services.
The hotel restaurant, bars, and indoor restrooms are also exclusive to VIPs, Hotel guests, and Exhibitors.
VIP Live Concerts including Roots of Creation appearing in Concert on Friday, October 7, 2022, at 4:00 pm – also Brett Wilson solo set Friday Evening, Cannabis Viper Vaudeville performance – Special Show only for VIPs, Exhibitors, and Hotel Guests and Mikaela Davis with her band Southern Star will be performing in concert Saturday, Oct. 8 on the main stage outdoors – Mikaela Davis will be performing a special solo concert for VIPs, Exhibitors and Hotel Guests with More VIP Activities To Be Announced.
Friday, October 7 (VIPs, Exhibitors, and Hotel Guests only): 3:00 pm – 10:00 pm
Roots of Creation 3:30-5:00, then after-hours fun with a Comedy show, , and Brett Wilson's solo set!\
Discover Path Vacations – The premier vacation destinations in New England