Northeast Alternatives (NEA) is a medical marijuana dispensary, and 21+ recreational cannabis store located in Fall River, MA. We genuinely believe in the life-changing benefits of cannabis and are committed to producing high-quality, 100% compliant products that exceed the expectations of our patients and customers each and every time.
On January 20, 2019, cannabis prohibition in Southeastern MA came to an end. NEA became only the sixth dispensary in MA and the first in Southeastern MA to open to anyone 21 years or older. For NEA, this historical and exciting moment in time marks just the beginning. With plans to continue to expand its cultivation capacity as well as the number of retail stores in MA and other East Coast states, NEA will continue to pursue the dream of providing consistent, high-quality cannabis to all medical patients and recreational users who want or need access to this plant's amazing benefits.

Chris Harkins – Founder & CEO
NEA's Founder and CEO, Chris Harkins works closely with state and local governments and oversees the acquisition of all real estate and directs the design, planning, and construction of all facilities. He has extensive experience in Real Estate Development and Private Equity. Chris worked for over 20 years as the founder and CEO of a real estate development company serving the Southern New England markets. Chris was a founding principal in a private equity business with assets under management of over 30 million dollars. He has a diverse skill set and experience and sets the tone for the overall business vision, values, and leadership of the team. He has his undergraduate degree from the University of Massachusetts.
Rich Rosier – Co-Founder & CFO
Rich Rosier serves as NEA's CFO. A leadership expert, Rich has advised and coached leaders and executive teams from around the globe to enhance their leadership effectiveness and overall business results. His leadership experience includes P&L responsibility for multiple business units as well as global sales and marketing. His areas of expertise include finance, strategy, leading change, innovation, and sales and marketing as well as identifying top talent and building high-performance cultures. He is the author of multiple books and articles including the Sloan Management Review article, "Leading in Unnerving Times" with Warren Bennis. He holds a BA in History from the University of Michigan.
From the beginning, NEA's been committed to offering the very best genetics. This became possible when Kyle Bishop and Zac Cooper agreed to join the leadership team. Kyle and Zac relocated from CO in November 2017. They brought tremendous experience and extensive cultivation and product knowledge from years of consulting with huge name brands and producers/processors from around the country. Finally, after securing the necessary regulatory permits, building out a top-notch team of cultivators and budtenders, and creating the perfect environment to grow exceptional cannabis, Northeast Alternatives opened its doors on June 30, 2018, to serve MA medical patients.
Kyle Bishop – COO
NEA's COO, Kyle oversees our cultivation operation and manages branding and marketing for the company. Kyle and his team won their first award from High Times in the 2011 Cannabis Cup in the Sativa category. Kyle has managed a 140,000 SQ FT warehouse as well as hundreds of employees. In addition, he has designed, built, furnished, and trained staff for the renowned 200,000 SQ FT warehouse "The Mother Ship" at Native Roots from 2014-2017. Kyle has won 15 Cannabis Awards including many High Times Cannabis Cups from 2010-2017 for both cultivation and extracts. He has consulted for many large companies on growth design, staffing strategies, and successful management focusing on scalability. He graduated from Fort Lewis College in 2009 with a focus on Ethnobotany and Finance.
Zac Cooper – CPO
A distinguished leader within the cannabis industry with over 12 years of cannabis cultivation expertise, Zac Cooper, is NEA's CPO and helps manage and supervise the creation of new products. Zac has gained unparalleled experience from the ground up, managing small grow operations as a caregiver in 2005; to large-scale commercial cultivation, managing 200,000 SQ FT with over 80 growers in 2014. Zac has overseen the successful cultivation of over 30,000+ pounds of high-quality flower in CO. From 2014 to 2017, Zac served as Director of Operations for Native Roots' 200,000 SQ FT cultivation facility, excelling in the development and standardization of SOPs for cultivation, IPM, facilities operation, instrument use, and compliance. Native Roots was awarded numerous awards during this time for cultivation and extraction, including Top 100 Best Workplaces in CO two years in a row (2016-2017). He holds a BA in Psychology with a minor in business.
Grant Troeger – VP of Retail & Wholesale
NEA's VP of Retail & Wholesale, Grant Troeger, is responsible for the strategic vision and expansion of the company's operations. Grant's priorities are building high-performing teams, driving revenue through innovative customer experiences and products, and executing expansion initiatives. He has 12 years of retail cannabis experience stemming from the Colorado, Massachusetts, Michigan, and Canadian markets. Grant was previously the Director of Retail at Native Roots Dispensary. He oversaw 20 retail locations in Colorado while supporting expansion for 4 new locations in Manitoba, Canada. Under his leadership, Native Roots was awarded "Best Dispensary" in the medical and recreational categories for 4 consecutive years, from 2014-2018. He attended Endicott College in Beverly, MA, and the Metropolitan State University of Denver for Business Management.

Visit our booth #237 at The High Lifestyle Show on October 7-9, 2022 to learn more!
Northeast Alternatives Marijuana Dispensary
999 William S Canning Blvd
Fall River, MA 02721
(508) 567-6761
support@nealternatives.com
www.nealternatives.com
About The HighLifeStyle Show
The High Lifestyle Show October 7-9, 2022 We are super stoked to announce, a true renaissance man, our guest Cheech Marin. Cheech will be meeting fans and signing items, art and autographs all weekend long. Limited tickets are available now!
Frequently Asked Questions
Do I need to be 21+ and is the show open to the public?
The show is open to the public, 21+ NO EXCEPTIONS.
Do I have to bring my ticket to the event?
You will need a copy of the ticket, printed or on your phone.
Can I leave & re-enter?
Yes, unlimited re-entry for the day of the show with a badge.
Can I bring/use cannabis to the event?
Yes – consumption will be permitted in all outside spaces. Possession and use of cannabis MUST be in compliance with Massachusetts law.
Is my registration/ticket transferable?
Yes – anyone over 21 can use your ticket.
What is the refund policy?
All ticket sales are final, with no refunds.
The High Lifestyle Show October 7-9, 2022
The Boxboro Regency Hotel and Conference Center, Boxborough, MA
Tickets are available now!
You must be at least 21 years of age to enter the private property.

There will be over 30,000 square feet of space indoors and outdoors where brands, dispensaries, distributors, growers, artists, performers, and consumers will come together in the HighLifeStyle of B2B and B2C in a resort hotel conference setting with exhibitors, vendors, concerts, comedy, education, celebrities, networking, and socializing.
The HighLifeStyle Show offers exhibitors and vendors a fun environment to meet qualified customers who are interested in canna-related products, services, and creative arts.
Our goal as a business conference is to connect businesses, entrepreneurs, and brands with distributors, retailers, and consumers in an entertaining and safe environment. In order to attract new customers, retail distributors can promote their products and retail locations. The ability to find new fans is a benefit for artists. Craft growers can network to find supplies they may need to be an at-home botanist, or find outlets or job opportunities.
As a LifeStyle conference, we will be showcasing all aspects of the canna-inspired culture including health, wellness, music, art, clothing, literature, food, cultivation, supplies, medical, educational, and ancillary aspects including cannabis weddings and travel.
There will be two levels of participation involving access to indoor and outdoor activities. All attendees will be able to access all of the Exhibitors indoors and out.
Live Music On The Main Stage Outdoors All Weekend Long Includes
The Wailers, Roots of Creation, Brett Wilson, Mikaela Davis, Barrence Whitfield, Walter Sickert & The Army of Broken Toys, Tsunami of Sound, Justine's Black Threads, and more.
Laugh your bud off with LIVE Comedy & Stand-up
Starring Matt Barry, Mona Forgione, Ian Stuart, and Josh Day will be performing standup comedy, all weekend long.
Click Here For more info on Exhibitor Space or Sponsorship, or email:
Marc@NECANN.com or GarySohmers@gmail.com
THERE WILL BE NO SELLING ANYTHING IN VIOLATION OF MASSACHUSETTS LAW. THIS LOCATION IS NOT A DISPENSARY.
About the Venue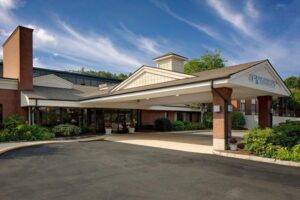 Make it a vacation and stay for the weekend! Boxboro Regency Hotel (978) 263-8701 Located in a rural area near several corporate offices, this simple conference hotel is 1 mi (1.6 km) from I- 95 and within 1 mi (2 km) of Oxbow National Wildlife Refuge. 9 km and 33 km from downtown Boston. The warm, traditionally furnished rooms feature free Wi-Fi access, a flat-screen TV, a coffee maker, and a seating area. Higher-class rooms have mini-fridges and/or a balcony or terrace overlooking the pool. Suites also include sofa beds and microwaves, while higher-end suites have separate living rooms.
While there are many pleasant restaurants close to our hotel, we are happy to offer guests delicious on-site dining options. Enjoy breakfast, lunch or dinner at our casual restaurant Minuteman Grille American Pub. You can also enjoy a delicious meal served directly in your room.
Amenities consist of a tropical atrium with a fountain, free Wi-Fi, free parking, disabled access, an indoor pool, a restaurant, bars, room service, and air conditioning. Refrigeration, Airport Shuttle, Pets Allowed, Dogs Allowed (please call hotel for more information). information 978-263-8701). In addition, for hotel guests, we provide a fully equipped fitness center that includes changing rooms and showers, treadmills, ellipticals, stationary bikes, and free weights. . Stay in control of your business with our on-site business center, which offers computer, printer, and fax services.
The hotel restaurant, bars, and indoor restrooms are also exclusive to VIPs, Hotel guests, and Exhibitors.
VIP Live Concerts including Roots of Creation appearing in Concert on Friday, October 7, 2022, at 4:00 pm – also Brett Wilson solo set Friday Evening, Cannabis Viper Vaudeville performance – Special Show only for VIPs, Exhibitors, and Hotel Guests and Mikaela Davis with her band Southern Star will be performing in concert Saturday, Oct. 8 on the main stage outdoors – Mikaela Davis will be performing a special solo concert for VIPs, Exhibitors and Hotel Guests with More VIP Activities To Be Announced.
Friday, October 7 (VIPs, Exhibitors, and Hotel Guests only): 3:00 pm – 10:00 pm
Roots of Creation 3:30-5:00, then after-hours fun with a Comedy show, and Brett Wilson's solo set!
Northeast Alternatives (NEA) exceeding expectations each and every time