Cannaline Custom Packaging Solutions blends years of industry experience with dedicated customer service representatives and a complete in-house creative design team to satisfy all of your marijuana and CBD packaging requirements. Offering stock and custom cannabis packaging solutions designed to meet regulatory requirements, increase sustainability, and elevate your marijuana or CBD brand's aesthetic to match your high-quality products and increase your sales.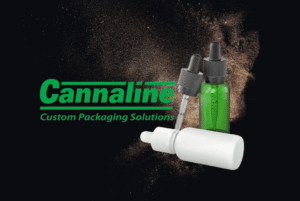 Cannaline Custom Packaging includes products such as:
Glass Marijuana Jars
Child Resistant Jars
Mylar Smell Proof Bags
Concentrate Containers
Pre-Roll Tubes
Dropper Bottles
Custom Dispensary Packaging
Compliance Approved Packaging
The Cannaline Difference • Cannaline is the only wholesale container company specifically dedicated to serving the medical marijuana jars/cannabis industry. • Cannaline's staff have deep familiarity with the special needs of the industry that cannot be matched by any general purpose packaging company. • Cannaline packages much more securely than other companies, greatly reducing breakage. • Cannaline offers labor and money saving features that are needed by the industry, i.e. "best practices" lids and bags, and small minimums for custom printed containers. • Cannaline is the only container company that offers a limited lifetime warranty on our jars and money back guarantee if you are not 100% satisfied.
Cannaline Custom Packaging Solutions are available to best fit your brand! Make your cannabis brand stand out with Cannaline Custom Cannabis Packaging
From custom branded wholesale concentrate containers to custom child-resistant marijuana jars, they have a solution for your cannabis branding. Taking great pride in helping customers attain high-quality, creative cannabis packaging, for a recognizable and unique branding experience… all with reasonable order quantities and bulk competitive prices!
International Solutions For Custom Dispensary Packaging
Headquartered in the Mid-Atlantic region, we have distribution centers on both coasts that enable us to ship your orders quickly. Utilizing our in-house design team, and factories in the US and Asia, we are able to help both large and small companies customize their marijuana packaging and produce their orders at exceptionally fast rates.
Over 12 Years Of Experience In Cannabis Packaging
Cannaline was founded in 2009 by Arnold Heckman, Andy Rickert and Steve De'Angelo, one of the original founders of Harborside Health Center. Together they offer unrivaled marijuana industry experience and knowledge leading to better quality packaging and design.
Cannaline Custom Packaging Solutions prides themselves in their breadth, depth, and quality.
About the show
October 7-9, 2022
The Boxboro Regency Hotel and Conference Center, Boxborough, MA
Tickets are available now!
You must be at least 21 years of age to enter the private property.

There will be over 30,000 sq ft indoor and outdoor gathering of brands, dispensaries, distributors, growers, artists, performers, and consumers to converge in the HighLifeStyle of B2B and B2C in a resort hotel conference setting with exhibitors, vendors, concerts, comedy, education, celebrities, socializing and networking.
Offering exhibitors and vendors a fun environment to meet qualified customers who are interested in canna-related products, services, and creative arts. There will be no THC products for sale on the property.
As a business conference, one of The HighLifeStyle Show's goals is to have businesses, entrepreneurs, and brands will be able to meet the distributors, retailers, and consumers in an entertaining, safe environment. Retail distributors can promote their products and retail locations in order to compete to attract new customers. Artists can find new fans. Craft growers can network to find supplies they may need to be an at-home botanist, or find outlets or job opportunities.
As a LifeStyle conference, we will be showcasing all aspects of the canna-inspired culture including health, wellness, music, art, clothing, literature, food, cultivation, supplies, medical, educational, and ancillary aspects including cannabis weddings and travel.
There will be two levels of participation involving access to indoor and outdoor activities. All attendees will be able to access all of the Exhibitors indoors and out.
Live Music On The Main Stage Outdoors All Weekend Long Includes
The Wailers, Roots of Creation, Jon Butcher Axis, Brett Wilson, Mikaela Davis, Barrence Whitfield, Walter Sickert & The Army of Broken Toys, Tsunami of Sound, Justine's Black Threads, and more.
Laugh your bud off with LIVE Comedy & Stand-up
Starring Matt Barry, Mona Forgione, Ian Stuart, and Josh Day will be performing standup comedy, all weekend long.
Click Here For more info on Exhibitor Space or Sponsorship, or email:
Marc@NECANN.com or GarySohmers@gmail.com
THERE WILL BE NO SELLING ANYTHING IN VIOLATION OF MASSACHUSETTS LAW. THIS LOCATION IS NOT A DISPENSARY.
About the Venue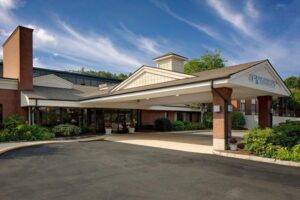 Boxboro Regency Hotel (978) 263-8701 Located in a rural area near several corporate offices, this conference hotel is 1 mi (1.6 km) from I- 95 and within 1 mi (2 km) of Oxbow National Wildlife Refuge. A 20-minute drive from downtown Boston. The warm, traditionally furnished rooms feature free Wi-Fi access, a flat-screen TV, a coffee maker, and a seating area. Higher classrooms have mini-fridges and/or a balcony or terrace overlooking the pool. Suites also include sofa beds and microwaves, while higher-end suites have separate living rooms. The on-site full-service restaurant is open for breakfast, lunch, and dinner and serves modern American fare. Guests can unwind on the indoor pool deck. Additional amenities include an exercise facility and an indoor pool. The hotel provides free parking and is pet friendly.
While there are many pleasant restaurants close to our hotel, we are happy to offer guests delicious on-site dining options. Enjoy breakfast, lunch, or dinner at our casual restaurant Minuteman Grille American Pub. You can also enjoy a delicious meal served directly in your room.
Amenities consist of a tropical atrium with a fountain, free Wi-Fi, free parking, disabled access, an indoor pool, a restaurant, a bar, room service, and air conditioning. Refrigeration, Airport Shuttle, Pets Allowed, Dogs Allowed (please call hotel for more information 978-263-8701). In addition, for hotel guests, we provide a fully equipped fitness center that includes changing rooms and showers, treadmills, ellipticals, stationary bikes, and free weights. Stay in control of your business with our on-site business center, which offers computer, printer, and fax services.
The hotel restaurant, bar, and indoor restrooms are also exclusive to VIPs, Hotel guests, and Exhibitors.
VIP Live Concerts including Roots of Creation appearing in Concert on Friday, October 7, 2022, at 4:00 pm – also Brett Wilson solo set Friday Evening – Special Show only for VIPs, Exhibitors and Hotel Guests and Mikaela Davis with her band Southern Star will be performing in concert Saturday, Oct. 8 on the main stage outdoors – Mikaela Davis will be performing a special solo concert for VIPs, Exhibitors and Hotel Guests with More VIP Activities To Be Announced.
Cannaline Custom Packaging Solutions at HighLifeStyle Show Oct 7-9