Saturday, October 8, 2022, at the HighLifeStyle Show, Boxboro Regency Hotel & Conference Center, Walter Sickert & The Army of Broken Toys will be performing live on the Main Stage outdoors.
With rollicking apocalyptic waltzes and dramatic rock songs that appear to burst from under their ringmaster's top hat, the Army of Broken Toys' stage play exorcises personal traumas and cleaves its audience's hearts. One feels psychically transported to The Toys' 'Portable Carnival' when they are performing on stage. The troupe has 7 musicians (guitars, upright bass, drums, viola, mandolin, broken toys, melodica, accordion, ukulele, flute…) and travels with The Bunny Collaborative, a surreal ensemble of any number of midway and burlesque performers. The Army of Broken Toys is a one-of-a-kind rock club-to-circus experience.
Tickets available now!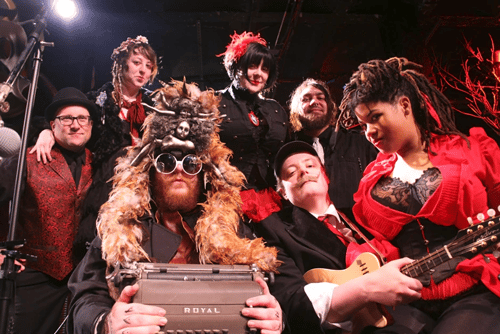 Sickert & The Army of Broken Toys have made as much of a national commotion as they have locally. They have received consistent acclaim in the Boston press, including The Boston Globe, The Boston Herald, The Noise, and The Phoenix, and have been featured nationally on NPR's Here and Now, All Songs Considered, and MuchMusic.
Bostonian phenomenon Walter Sickert & The Army of Broken Toys are steampunk dada favorites that make music for anybody who has ever been broken (-NPR).
Sickert was selected Best Artist in the Boston Phoenix Reader's Poll in 2011 and 2012, and his visual work was showcased in Amanda Palmer's six-figure Kickstarter with a small group of artists, including Frances Bean Cobain, Neil Gaiman, DJ Spooky, Shepard Fairey, David Mack, among others. Walter has also been in the RPM challenge sponsored by New Hampshire's The Wire for the past six years. Since its start, the band has taken part in the challenge every year. The Toys have successfully financed two Kickstarter campaigns and created a 40+ performance run of their own "steampunk musical for people who hate musicals," "28 Seeds," a cautionary tale written by the band's resident playwright/mustache, Meff, and produced by Liars and Believers. The play grew out of the RPM '10 project  the "last radio show"
Walter Sickert & The Army of Broken Toys' "rollicking, raunchy sideshow of jolly, wheezing menace and delight" live experience has taken the band across the US and then beyond, playing such highly regarded arenas as the Hynes Convention Center for First Night for four years, The Boston Center for The Arts, Boston Symphony Hall, 930 Club in DC, Webster Hall in NYC, Royce Hall in LA, Mod Club in Toronto, the Stone Pony in NJ, and the Melkweg in Amsterdam.
Their antics on stage have won them a Boston Music Award nomination for Best Live Act, as well as headline slots at Steampunk World's Faire. At various locations, they have opened for worldwide contemporaries such as the Tiger Lillies, Super Furry Animals vocalist Gruff Rhys, The Humans (with Toyah Wilcox, Bill Rieflin, and Chris Wong), The Dresden Dolls, Amanda Palmer (solo), Chester French, and others.
Boston Survival Guide, a "Musically sophisticated and immensely talented, wildly unusual and diverse in material and presentation, a Dada-esque circus carnival run amuck, and just plain good 'not-always-so-clean' fun."
The Army Broken Toys have a lot more to come with their new album, Soft Time Traveler, and tour plans in the US and Europe.
Walter Alice Sickert / Vocals, Guitar, Piano
Mary Widow / Vocals, Mandolin, Glockenspiel
Rachel Jayson / Viola
Mike Leggio / Bass
Matt Zappa / Percussion
Brother Bones (Blake Girndt) / Guitar
jojo Lazar / Flute, Ukulele
Edrie / Vocals, Accordion, Broken Toys
About the Event
The HighLifeStyle Show is a conference with over 30,000 square feet of indoor and outdoor area that brings brands, dispensaries, distributors, growers, artists, performers, and consumers together in the HighLifeStyle of B2B and C2C.

The HighLifeStyle Show October 7-9, 2022
The Boxboro Regency Hotel and Conference Center, Boxborough, MA
Tickets available now!
You must be at least 21 years of age to enter the private property.
The HighLifeStyle Show will be over 30,000 sq ft indoor and outdoor gathering of brands, dispensaries, distributors, growers, artists, performers and consumers to converge in the HighLifeStyle of B2B and B2C in a resort hotel conference setting with exhibitors, vendors, concerts, comedy, education, celebrities, socializing and networking.
Offering exhibitors and vendors a fun environment to meet qualified customers who are interested in canna related products, services and creative arts.
As a business conference, one of our goals is to have businesses, entrepreneurs and brands to be able to meet the distributors, retailers and consumers in an entertaining, safe environment. Retail distributors can promote their products and retail locations in order to compete to attract new customers. Artists can find new fans. Craft growers can network to find supplies they may need to be an at-home botanist, or find outlets or job opportunities.
As a LifeStyle conference, we will be showcasing all aspects of the canna inspired culture including health, wellness, music, art, clothing, literature, food, cultivation, supplies, medical, educational and ancillary aspects including cannabis weddings and travel.
There will be two levels of participation involving access to indoor and outdoor activities. All attendees will be able to access all of the Exhibitors indoors and out.
Live Music On The Main Stage Outdoors All Weekend Long Includes
The Wailers, Roots of Creation, Brett Wilson, Mikaela Davis, Barrence Whitfield, Walter Sickert & The Army of Broken Toys, Tsunami of Sound, Justine's Black Threads and more.
Laugh your bud off with LIVE Comedy & Stand-up
Staring Matt Barry, Mona Forgione, Ian Stuart, Josh Day will be performing standup comedy, all weekend long.
Click Here For more info on Exhibitor Space or Sponsorship, or email:
Marc@NECANN.com or GarySohmers@gmail.com
THERE WILL BE NO SELLING ANYTHING IN VIOLATION OF MASSACHUSETTS LAW. THIS LOCATION IS NOT A DISPENSARY.
About the Venue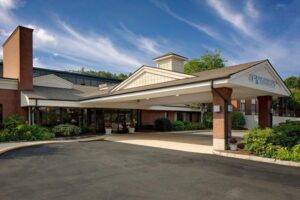 Stay the weekend – Boxboro Regency Hotel (978) 263-8701  The hotel has a variety of rooms available including standard guestrooms, suites, and executive suites. All rooms include free Wi-Fi access, cable TV with HBO, and a refrigerator. Many rooms have mini-fridges and/or a balcony or terrace overlooking the indoor pool. Suites also include sofa beds and microwaves, while higher-end suites have separate living rooms. The on-site full-service restaurant is open for breakfast, lunch, and dinner and serves modern American fare. Guests can unwind on the indoor pool deck. Amenities consist of a tropical atrium with a fountain, free Wi-Fi, free parking, disabled access, indoor pool, restaurant, bar, room service, air conditioning. Refrigeration, Airport Shuttle, Pets Allowed, Dogs Allowed (please call hotel for more information 978-263-8701). In addition, for hotel guests, we provide a fully equipped fitness center that includes changing rooms and showers, treadmills, ellipticals, stationary bikes and free weights. Stay in control of your business with our on-site business center, which offers computer, printer and fax services.
While there are many pleasant restaurants close to our hotel, we are happy to offer guests delicious on-site dining options. Enjoy breakfast, lunch or dinner at our casual restaurant Minuteman Grille American Pub. You can also enjoy a delicious meal served directly in your room.
Hotel restaurant, bar and indoor restrooms are also exclusive to VIPs, Hotel guests and Exhibitors.
VIP Live Concerts including Roots of Creation appearing in Concert on Friday October 7, 2022 at 4:00 pm – also Brett Wilson solo set Friday Evening – Special Show only for VIPs, Exhibitors and Hotel Guests and Mikaela Davis with her band Southern Star will be performing in concert Saturday Oct. 8 on the main stage outdoors – Mikaela Davis will be performing a special solo concert for VIPs, Exhibitors and Hotel Guests with More VIP Activities To Be Announced.
Bostonian Phenomenon Walter Sickert & The Army of Broken Toys October 8th