"Our evidence indicates that cannabis use does not appear to have an effect on motivation for recreational users," Barbara Sahakian, a professor of psychiatry at the University of Cambridge, said in a statement.
The HighLifeStyle Show provides guests, exhibitors, vendors, and businesses with a fun environment to meet others who are interested in cannabis related products, services, and creative arts.  As a business conference, one of The HighLifeStyle Show's goals is to have businesses, entrepreneurs, and brands will be able to meet the distributors, retailers, and consumers in an entertaining, safe environment. Retail distributors can promote their products and retail locations in order to compete to attract new customers. Artists can find new fans. Craft growers can network to find supplies they may need to be an at-home botanist, or find outlets or job opportunities.
As a LifeStyle conference, we will be showcasing all aspects of the canna-inspired culture including health, wellness, music, art, clothing, literature, food, cultivation, supplies, medical, educational, and ancillary aspects including cannabis weddings and travel. The HighLifeStyle Show is moving forward and breaking the "Lazy Stoner Stereotype" by creating an event by and for professionals, artists, businesses, and other highly motivated people.
On September 1, 2022, Neuroscience News published an article on a study from the University of Cambridge. The Summary: Users of cannabis showed no difference in motivation, pleasure taken from rewards, or the brain's response to reward-seeking compared to non-cannabis users.
The study finds as compared to non-users, cannabis users do not show differences in motivation, pleasure from rewards, or brain activity when seeking rewards.
Cannabis is the third most commonly used controlled substance worldwide, after alcohol and nicotine. A 2018 report from the NHS Digital Lifestyles Team stated that almost one in five (19%) of 15-year-olds in England had used cannabis in the previous 12 months, while in 2020 the National Institute on Drug Abuse reported the proportion in the United States to be 28% of 15-16-year-olds.
A team led by scientists at UCL, the University of Cambridge, and the Institute of Psychiatry, Psychology & Neuroscience at King's College London carried out a study examining whether cannabis users show higher levels of apathy (loss of motivation) and anhedonia (loss of interest in or pleasure from rewards) when compared to controls and whether they were less willing to exert physical effort to receive a reward. The research was part of the CannTEEN study.
The results are published in the International Journal of Neuropsychopharmacology.
The team recruited 274 adolescent and adult cannabis users who had used cannabis at least weekly over the past three months, with an average of four days per week, and matched them with non-users of the same age and gender.
Participants completed questionnaires to measure anhedonia (the inability to feel pleasure), asking them to rate statements such as "I would enjoy being with family or close friends." They also completed questionnaires to measure their levels of apathy, which asked them to rate characteristics such as how interested they were in learning new things or how likely they were to see a job through to the end.
Cannabis users scored slightly lower than non-users on anhedonia—in other words, they appeared better able to enjoy themselves—but there was no significant difference when it came to apathy. The researchers also found no link between the frequency of cannabis use and either apathy or anhedonia in the people who used cannabis.
Martine Skumlien, a Ph.D. candidate in the Department of Psychiatry at the University of Cambridge, said, "We were surprised to see that there was really very little difference between cannabis users and non-users when it came to lack of motivation or lack of enjoyment, even among those who used cannabis every day. This is contrary to the stereotypical portrayal we see on TV and in movies."
The researchers found no difference between users and non-users or between age groups on either the physical effort task or the real reward pleasure task, confirming evidence from other studies that found no, or very little, difference.
Skumlien added, "We're so used to seeing 'lazy stoners' on our screens that we don't stop to ask whether they're an accurate representation of cannabis users. Our work implies that this is in itself a lazy stereotype and that people who use cannabis are no more likely to lack motivation or be lazier than people who don't.
Professor Barbara Sahakian, from the Department of Psychiatry at the University of Cambridge, said, "Our evidence indicates that cannabis use does not appear to have an effect on motivation for recreational users."
Original Research: Open access.
"Anhedonia, apathy, pleasure, and effort-based decision-making in adult and adolescent cannabis users and controls " by Martine Skumlien et al. International Journal of Neuropsychopharmacology
Open access.
"Neural responses to reward anticipation and feedback in adult and adolescent cannabis users and controls" by Martine Skumlien et al. Neuropsychopharmacology
Read the full article on https://neurosciencenews.com/motivation-stoners-21341/
About The High Lifestyle Show October 7-9, 2022 
October 7-9, 2022
The Boxboro Regency Hotel and Conference Center, Boxborough, MA
Tickets are available now!
You must be at least 21 years of age to enter the private property.

There will be over 30,000 sq ft indoor and outdoor gathering of brands, dispensaries, distributors, growers, artists, performers, and consumers to converge in the HighLifeStyle of B2B and B2C in a resort hotel conference setting with exhibitors, vendors, concerts, comedy, education, celebrities, socializing and networking.
Live Music On The Main Stage Outdoors All Weekend Long Includes
The Wailers, Roots of Creation, Jon Butcher Axis, Brett Wilson, Mikaela Davis, Barrence Whitfield, Walter Sickert & The Army of Broken Toys, Tsunami of Sound, Justine's Black Threads, and more.
Laugh your bud off with LIVE Comedy & Stand-up
Starring Matt Barry, Mona Forgione, Ian Stuart, and Josh Day will be performing standup comedy, all weekend long.
Click Here For more info on Exhibitor Space or Sponsorship, or email:
Marc@NECANN.com or GarySohmers@gmail.com
About the Venue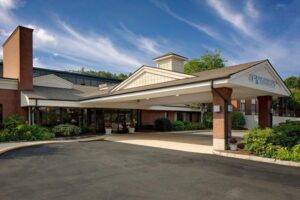 Boxboro Regency Hotel (978) 263-8701 Located in a rural area near several corporate offices, this conference hotel is 1 mi (1.6 km) from I- 95 and within 1 mi (2 km) of Oxbow National Wildlife Refuge. A 20-minute drive from downtown Boston. The warm, traditionally furnished rooms feature free Wi-Fi access, a flat-screen TV, a coffee maker, and a seating area. Higher classrooms have mini-fridges and/or a balcony or terrace overlooking the pool. Suites also include sofa beds and microwaves, while higher-end suites have separate living rooms. The on-site full-service restaurant is open for breakfast, lunch, and dinner and serves modern American fare. Guests can unwind on the indoor pool deck. Additional amenities include an exercise facility and an indoor pool. The hotel provides free parking and is pet friendly.
While there are many pleasant restaurants close to our hotel, we are happy to offer guests delicious on-site dining options. Enjoy breakfast, lunch, or dinner at our casual restaurant Minuteman Grille American Pub. You can also enjoy a delicious meal served directly in your room.
Amenities consist of a tropical atrium with a fountain, free Wi-Fi, free parking, disabled access, an indoor pool, a restaurant, a bar, room service, and air conditioning. Refrigeration, Airport Shuttle, Pets Allowed, Dogs Allowed (please call hotel for more information 978-263-8701). In addition, for hotel guests, we provide a fully equipped fitness center that includes changing rooms and showers, treadmills, ellipticals, stationary bikes, and free weights. Stay in control of your business with our on-site business center, which offers computer, printer, and fax services.
Lazy Stoner Stereotype Doesn't Fit Cannabis Consumers, Study Finds