We make exceptional cannabis vapes for people who celebrate the good life. Delicious flavors, rare and popular strains, and premium custom hardware. Our products are available everywhere in Massachusetts.
Fernway is about celebrating the good life: good food, good music, good scenery, and good company. We make cannabis vapes for everyone who wants to make a good life even better.
BDSA, the leading provider of market research solutions for the cannabis industry, has named them as one of the top 5 cannabis brands in the nation to watch in 2022. The Northampton-based cannabis brand attained the number one spot in Massachusetts market share for the vape cartridge category as of November 2021.
"Fernway was ranked top five by dollar sales among MA vape brands for 2021," says BDSA in their monthly Insights newsletter. "With consumer penetration in East Coast markets such as Maryland and Massachusetts rapidly growing, brands in these markets have a key opportunity to capitalize off new consumer growth. Some of the top brands in these East Coast markets are already displaying a unique level of brand strength, with the ability to command a higher price than competitors, and quickly jump into new markets and see strong sales."
After launching in February 2021, they have quickly become Massachusetts' fastest-selling cannabis vape brand and is the market leader in the vape cartridge category. Fernways products – which feature premium terpene blends, custom vape hardware, and widely acclaimed packaging – are currently carried by more than 120 dispensaries.
Please direct all media requests to Liam O'Brien.
ABOUT FERNWAY

An adult-use cannabis vape brand based in Northampton, Mass. We create exceptional cannabis vapes for people who celebrate the good life: good food, good music, good scenery, and good company. By combining premium custom hardware, exceptional terpenes, and high-purity cannabis oil we bring you the best-in-class vape cartridge you deserve. We believe cannabis makes the good life even better, and as passionate cannabis consumers, we've learned how a cannabis vape can elevate good experiences into great ones. And we want to share that with you. Our vapes deliver undeniable style and outstanding flavor. Each one meets our uncompromising quality standards so you can choose Fernway with confidence and focus on savoring every moment.
All our vapes are made with ultra-pure cannabis oil and terpenes. With our Flavor Line, we use terpenes harvested from other botanicals – like fruits and herbs – to deliver delicious natural flavors. With our Strain Collection, we use terpenes harvested from fresh cannabis to deliver a true-to-strain cannabis flavor profile.
All our products are rigorously quality tested both in-house and by state-certified labs to detect any impurities before they ever go on shelves. You can even access any Fernway product's Certificate Of Analysis – just request it from the dispensary where you bought it.
"I'm proud of all that the team has accomplished in such a short time," says CEO and co-founder Kit Gallant. "This is a sign that Fernway's unique best-in-class products and our brand message – that cannabis makes the good life even better – resonate strongly with consumers."
To learn more, visit our Fernway booth #254 October 7-9, 2022. See you there!
About The High Lifestyle Show October 7-9, 2022 
October 7-9, 2022
The Boxboro Regency Hotel and Conference Center, Boxborough, MA
Tickets are available now!
You must be at least 21 years of age to enter the private property.

There will be over 30,000 sq ft indoor and outdoor gathering of brands, dispensaries, distributors, growers, artists, performers, and consumers to converge in the HighLifeStyle of B2B and B2C in a resort hotel conference setting with exhibitors, vendors, concerts, comedy, education, celebrities, socializing and networking.
Live Music On The Main Stage Outdoors All Weekend Long Includes
The Wailers, Roots of Creation, Jon Butcher Axis, Brett Wilson, Mikaela Davis, Barrence Whitfield, Walter Sickert & The Army of Broken Toys, Tsunami of Sound, Justine's Black Threads, and more.
Laugh your bud off with LIVE Comedy & Stand-up
Starring Matt Barry, Mona Forgione, Ian Stuart, and Josh Day will be performing standup comedy, all weekend long.
Click Here For more info on Exhibitor Space or Sponsorship, or email:
Marc@NECANN.com or GarySohmers@gmail.com
About the Venue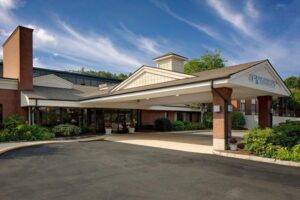 Boxboro Regency Hotel (978) 263-8701 Located in a rural area near several corporate offices, this conference hotel is 1 mi (1.6 km) from I- 95 and within 1 mi (2 km) of Oxbow National Wildlife Refuge. A 20-minute drive from downtown Boston. The warm, traditionally furnished rooms feature free Wi-Fi access, a flat-screen TV, a coffee maker, and a seating area. Higher classrooms have mini-fridges and/or a balcony or terrace overlooking the pool. Suites also include sofa beds and microwaves, while higher-end suites have separate living rooms. The on-site full-service restaurant is open for breakfast, lunch, and dinner and serves modern American fare. Guests can unwind on the indoor pool deck. Additional amenities include an exercise facility and an indoor pool. The hotel provides free parking and is pet friendly.
While there are many pleasant restaurants close to our hotel, we are happy to offer guests delicious on-site dining options. Enjoy breakfast, lunch, or dinner at our casual restaurant Minuteman Grille American Pub. You can also enjoy a delicious meal served directly in your room.
Amenities consist of a tropical atrium with a fountain, free Wi-Fi, free parking, disabled access, an indoor pool, a restaurant, a bar, room service, and air conditioning. Refrigeration, Airport Shuttle, Pets Allowed, Dogs Allowed (please call hotel for more information 978-263-8701). In addition, for hotel guests, we provide a fully equipped fitness center that includes changing rooms and showers, treadmills, ellipticals, stationary bikes, and free weights. Stay in control of your business with our on-site business center, which offers computer, printer, and fax services.
The hotel restaurant, bars, and indoor restrooms are also exclusive to VIPs, Hotel guests, and Exhibitors.
VIP Live Concerts including Roots of Creation appearing in Concert on Friday, October 7, 2022, at 4:00 pm – also Brett Wilson solo set Friday Evening, Cannabis Viper Vaudeville performance – Special Show only for VIPs, Exhibitors, and Hotel Guests and Mikaela Davis with her band Southern Star will be performing in concert Saturday, Oct. 8 on the main stage outdoors – Mikaela Davis will be performing a special solo concert for VIPs, Exhibitors and Hotel Guests with More VIP Activities To Be Announced.
Friday, October 7 (VIPs, Exhibitors, and Hotel Guests only): 3:00 pm – 10:00 pm
Roots of Creation 3:30-5:00, then after-hours fun with a Comedy show, , and Brett Wilson's solo set!
Fernway – Cannabis Vapes For Those Who Wants To Make The Good Life Better