Secure Energy Solutions – Energy management, specialize in the development and implementation of procurement strategies for electricity, natural gas, solar energy distributed generation and all other evolving market solution for cannabis growers and business.
We provide short or long-term pricing options in many states across America
Energy brokers and consultants are used by over 70% of businesses. Business owners understand that deregulation lowers their energy costs. Without obligation or charge, we will analyze your current utility and/or supplier bills to ensure that your past, present, and future agreements are properly enrolled. By analyzing current market data, we have procured thousands of contracts on behalf of our clients. As a result, we are constantly in contact with our suppliers, including electric, gas, and solar. Having a complete understanding of the energy market is one of our strengths. In order to provide our clients with the best rate, we continuously monitor the current market.
DEMAND RESPONSE
A program designed to ensure system reliability by asking participants to curtail their electric usage during times of high demand. Businesses that take advantage of these programs receive significant payments for participating.
DISTRIBUTED GENERATION
Secure Energy is a clean energy solutions provider, delivering environmentally friendly power systems and renewable energy products that bring value through energy savings. Secure Energy can assist you with the identification and implementation of various energy-reducing technologies. We have worked with clients on the evaluation and siting of solar photovoltaic projects, fuel cells, microturbines, and reciprocating engine power plants. We can assist with project evaluations and the integration of these distributed generation technologies with your existing and future procurement strategies.
ELECTRICITY PROCUREMENT
Secure Energy offers a breadth of products accompanied by expert advice to help you develop or further refine your procurement strategy. We currently manage over 4 billion kWh, allowing us to leverage supplier relationships and buying power for the benefit of our customers.
NATURAL GAS PROCUREMENT
Natural Gas is one of America's most important natural resources. When purchasing natural gas, it is important to understand the current market conditions and various available products. Secure Energy offers a breadth of products and expert advice to help you develop a refined natural gas procurement strategy.

Electricity
Secure Energy offers industry-leading products and services that fit your chosen risk tolerance and procurement needs.

Natural Gas
With our market intelligence and buying power, we provide expert advice and direction to our customers…

Efficiency
We will identify opportunities for your business to lower demand costs, drive efficiency savings,s and capture rebates.

EIS BUDA
A cloud-based platform that collects, analyzes, and displays your energy data to inform and assist in meeting your energy management goals.
Visit  Secure Energy Solutions at our booth #234 and talk to us about designing and implementing comprehensive energy management strategies that communicate market knowledge, leverage supplier relationships, introduce data-driven, efficiency-based technology, and deliver innovative solutions for your business needs.
Theodore Kopyscinski
Secure Energy Solutions
Senior VP of Sales, N.E. Region
tkopy@sesenergy.org
(413) 733-2571
Michael Freedman
Secure Energy Solutions
Senior Energy Specialist
mfreedman@sesenergy.org
(413) 733-2571
Peter Rivera
Secure Energy Solutions
Energy Specialist
privera@sesenergy.org
(413) 733-2571
Michael Santinello
Secure Energy Solutions
Energy Specialist
msantinello@sesenergy.org
(413) 733-2571
About The HighLifeStyle Show
HighLifeStyle Show Oct 7-9 Cheech Marin, Jon Provost, The Wailers, Roots of Creation, MIkaela Davis, Jon Butcher Axis, Barrence Whitfield, Walter Sickert Army of Broken Toys, Justine's Black Threads, Tsunami of Sound, DJ Slim, Bliss Bus, Mystery Machine, Viper Vaudeville, Standup Comedy, Baked Bingo, exhibitors, lots more fun https://highlifestyleshow.com/the-highlifestyle-show-tickets-available-now/
Frequently Asked Questions
Do I need to be 21+ and is the show open to the public?
The show is open to the public, 21+ NO EXCEPTIONS.
Do I have to bring my ticket to the event?
You will need a copy of the ticket, printed or on your phone.
Can I leave & re-enter?
Yes, unlimited re-entry for the day of the show with a badge.
Can I bring/use cannabis to the event?
Yes – consumption will be permitted in all outside spaces. Possession and use of cannabis MUST be in compliance with Massachusetts law.
Is my registration/ticket transferable?
Yes – anyone over 21 can use your ticket.
What is the refund policy?
All ticket sales are final, with no refunds.
The High Lifestyle Show October 7-9, 2022
The Boxboro Regency Hotel and Conference Center, Boxborough, MA
Tickets are available now!
You must be at least 21 years of age to enter the private property.
There are a lot of reasons that we will be at the HighLifeStyle Show in Boxborough from Oct. 7 to Oct. 9, and the fact that the Dig is co-sponsoring a tent with the Weed Game Show, Boston Baked Bingo, a DJ Slim performance, yoga, and other activities is just one of them.
The lineup for the weekend is also spectacular beyond our wildest weeded dreams. As we announced earlier, the Wailers will be headlining the music stage, and Cheech Marin himself will also be on-site meeting fans.

The HighLifeStyle Show will be over 30,000 sq ft indoor and outdoor gathering of brands, dispensaries, distributors, growers, artists, performers, and consumers to converge in the HighLifeStyle of B2B and B2C in a resort hotel conference setting with exhibitors, vendors, concerts, comedy, education, celebrities, socializing and networking.
The HighLifeStyle Show offers exhibitors and vendors a fun environment to meet qualified customers who are interested in canna-related products, services, and creative arts.
As a business conference, one of our goals is to have businesses, entrepreneurs, and brands be able to meet the distributors, retailers, and consumers in an entertaining, safe environment. Retail distributors can promote their products and retail locations in order to compete to attract new customers. Artists can find new fans. Craft growers can network to find supplies they may need to be an at-home botanist, or find outlets or job opportunities.
As a LifeStyle conference, we will be showcasing all aspects of the canna-inspired culture including health, wellness, music, art, clothing, literature, food, cultivation, supplies, medical, educational, and ancillary aspects including cannabis weddings and travel.
There will be two levels of participation involving access to indoor and outdoor activities. All attendees will be able to access all of the Exhibitors indoors and out.
Live Music On The Main Stage Outdoors All Weekend Long Includes
The Wailers, Roots of Creation, Brett Wilson, Mikaela Davis, Barrence Whitfield, Walter Sickert & The Army of Broken Toys, Tsunami of Sound, Justine's Black Threads, and more.
Laugh your bud off with LIVE Comedy & Stand-up
Starring Matt Barry, Mona Forgione, Ian Stuart, and Josh Day will be performing standup comedy, all weekend long.
Click Here For more info on Exhibitor Space or Sponsorship, or email:
Marc@NECANN.com or GarySohmers@gmail.com
THERE WILL BE NO SELLING ANYTHING IN VIOLATION OF MASSACHUSETTS LAW. THIS LOCATION IS NOT A DISPENSARY.
About the Venue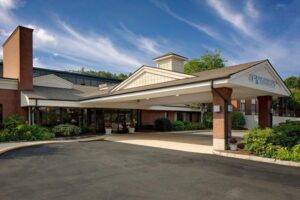 Make it a vacation and stay for the weekend! Boxboro Regency Hotel (978) 263-8701 Located in a rural area near several corporate offices, this simple conference hotel is 1 mi (1.6 km) from I- 95 and within 1 mi (2 km) of Oxbow National Wildlife Refuge. 9 km and 33 km from downtown Boston. The warm, traditionally furnished rooms feature free Wi-Fi access, a flat-screen TV, a coffee maker, and a seating area. Higher-class rooms have mini-fridges and/or a balcony or terrace overlooking the pool. Suites also include sofa beds and microwaves, while higher-end suites have separate living rooms.
While there are many pleasant restaurants close to our hotel, we are happy to offer guests delicious on-site dining options. Enjoy breakfast, lunch, or dinner at our casual restaurant Minuteman Grille American Pub. You can also enjoy a delicious meal served directly in your room.
Amenities consist of a tropical atrium with a fountain, free Wi-Fi, free parking, disabled access, an indoor pool, a restaurant, bars, room service, and air conditioning. Refrigeration, Airport Shuttle, Pets Allowed, Dogs Allowed (please call hotel for more information). information 978-263-8701). In addition, for hotel guests, we provide a fully equipped fitness center that includes changing rooms and showers, treadmills, ellipticals, stationary bikes, and free weights. . Stay in control of your business with our on-site business center, which offers computer, printer, and fax services.
The hotel restaurant, bars, and indoor restrooms are also exclusive to VIPs, Hotel guests, and Exhibitors.
VIP Live Concerts including Roots of Creation appearing in Concert on Friday, October 7, 2022, at 4:00 pm – also Brett Wilson solo set Friday Evening, Cannabis Viper Vaudeville performance – Special Show only for VIPs, Exhibitors, and Hotel Guests and Mikaela Davis with her band Southern Star will be performing in concert Saturday, Oct. 8 on the main stage outdoors – Mikaela Davis will be performing a special solo concert for VIPs, Exhibitors and Hotel Guests with More VIP Activities To Be Announced.
Friday, October 7 (VIPs, Exhibitors, and Hotel Guests only): 3:00 pm – 10:00 pm
Roots of Creation 3:30-5:00, then after-hours fun with a Comedy show, , and Brett Wilson's solo set!
Secure Energy Solutions – Data-Driven, Efficiency-Based Energy Solutions