At First Harvest Hemp Co., we proudly engage in this self-fulfilling endeavor with full knowledge of its disproportionate reciprocity. The existence of this awareness drives our passion and dedication and ensures us that our efforts will be received in kind and overwhelmingly abundantly. It is an honor to share our commitment to these plants and a healthy lifestyle with you. A Commitment of Quality – to the field – to the plants – to you. From Start to Finish.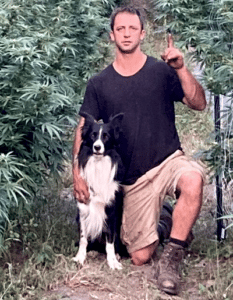 The First Harvest Hemp Co. was created in 2018 as a licensed LLC operating in the town of Dunstable, Massachusetts. The company was created by owner and CEO Kevin McGovern, a Dunstable native and graduate of the University of Maine (Orono), where he obtained his Bachelor's Degree in Agriculture Business. The passing of the 2018 Farm Bill offered a unique opportunity for Kevin to apply his farming experience and knowledge gained from growing up and working on a 3rd generation dairy farm located in Dunstable. After being granted a Grower/Processor license (MA2018006D) by the Massachusetts Department of Agriculture, Kevin and the First Harvest Team went on to become the first Massachusetts farmer to legally harvest industrial hemp in more than 90 years!
Aside from a handful of seasonal employees, the day-to-day responsibilities of the company are completed by Kevin and his loyal dog Jameson. Being vertically integrated allows First Harvest to grow a clean, pesticide-free crop of hemp, an achievement the company is passionate about.
Employing all-organic growing practices, such as the release of predator bugs, is a top priority to ensure a high-quality product for our consumers. All First Harvest products are hand-crafted with care and frequently tested for consistency by a third-party organization. We Hope you Enjoy!
First Harvest Hemp Co. FAQs
What makes First Harvest Hemp unique from other CBD/Hemp Companies?
Being a local, third-generation farm that produces its own CBD-rich hemp is a unique advantage compared to alternative companies who outsource their supply of hemp. Our hands-on approach is applied not only in the field to give every plant what it needs, but also to the drying and trimming of the hemp. Conventional methods of slow drying the hemp are used to help build and preserve a strong terpene profile. From there, the hemp is hand trimmed to ensure the cleanest product before extraction begins. This "hands on" approach is unique and contributes to the quality of first harvest products.
What is CBD?
CBD is one of hundreds of cannabinoid compounds found in the hemp/cannabis plant. These compounds have been found to directly interact with receptors found in the human brain and peripheral extremities, resulting in observed benefits such as reduced inflammation and much more.
What form of CBD is best for me?
Tincture: Great option for users who don't mind the robust taste profile that our full spectrum oil offers. One unique benefit of tinctures is a faster onset time than capsules, and there is some evidence that terpenes are absorbed directly by holding the tincture under the tongue for a short period of time.
CBD Capsule: Best option for users who don't like the taste of oil-based tinctures, but are looking for daily relief in pain, inflammation, anxiety, or depression. Capsules have a longer onset time, but usually last longer.
Topical: Used to directly target certain areas of pain or inflammation.
Smokeable Flower: Quickest onset time for immediate relief.
Find First Harvest Hemp Co. online at https://www.thefirsthemp.com/
About the show
October 7-9, 2022
The Boxboro Regency Hotel and Conference Center, Boxborough, MA
Tickets are available now!
You must be at least 21 years of age to enter the private property.

There will be over 30,000 sq ft indoor and outdoor gathering of brands, dispensaries, distributors, growers, artists, performers, and consumers to converge in the HighLifeStyle of B2B and B2C in a resort hotel conference setting with exhibitors, vendors, concerts, comedy, education, celebrities, socializing and networking.
Offering exhibitors and vendors a fun environment to meet qualified customers who are interested in canna-related products, services, and creative arts. There will be no THC products for sale on the property.
As a business conference, one of The HighLifeStyle Show's goals is to have businesses, entrepreneurs, and brands will be able to meet the distributors, retailers, and consumers in an entertaining, safe environment. Retail distributors can promote their products and retail locations in order to compete to attract new customers. Artists can find new fans. Craft growers can network to find supplies they may need to be an at-home botanist, or find outlets or job opportunities.
As a LifeStyle conference, we will be showcasing all aspects of the canna-inspired culture including health, wellness, music, art, clothing, literature, food, cultivation, supplies, medical, educational, and ancillary aspects including cannabis weddings and travel.
There will be two levels of participation involving access to indoor and outdoor activities. All attendees will be able to access all of the Exhibitors indoors and out.
Live Music On The Main Stage Outdoors All Weekend Long Includes
The Wailers, Roots of Creation, Jon Butcher Axis, Brett Wilson, Mikaela Davis, Barrence Whitfield, Walter Sickert & The Army of Broken Toys, Tsunami of Sound, Justine's Black Threads, and more.
Laugh your bud off with LIVE Comedy & Stand-up
Starring Matt Barry, Mona Forgione, Ian Stuart, and Josh Day will be performing standup comedy, all weekend long.
Click Here For more info on Exhibitor Space or Sponsorship, or email:
Marc@NECANN.com or GarySohmers@gmail.com
THERE WILL BE NO SELLING ANYTHING IN VIOLATION OF MASSACHUSETTS LAW. THIS LOCATION IS NOT A DISPENSARY.
About the Venue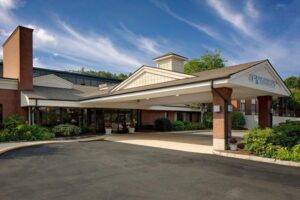 Boxboro Regency Hotel (978) 263-8701 Located in a rural area near several corporate offices, this conference hotel is 1 mi (1.6 km) from I- 95 and within 1 mi (2 km) of Oxbow National Wildlife Refuge. A 20-minute drive from downtown Boston. The warm, traditionally furnished rooms feature free Wi-Fi access, a flat-screen TV, a coffee maker, and a seating area. Higher classrooms have mini-fridges and/or a balcony or terrace overlooking the pool. Suites also include sofa beds and microwaves, while higher-end suites have separate living rooms. The on-site full-service restaurant is open for breakfast, lunch, and dinner and serves modern American fare. Guests can unwind on the indoor pool deck. Additional amenities include an exercise facility and an indoor pool. The hotel provides free parking and is pet friendly.
While there are many pleasant restaurants close to our hotel, we are happy to offer guests delicious on-site dining options. Enjoy breakfast, lunch, or dinner at our casual restaurant Minuteman Grille American Pub. You can also enjoy a delicious meal served directly in your room.
Amenities consist of a tropical atrium with a fountain, free Wi-Fi, free parking, disabled access, an indoor pool, a restaurant, a bar, room service, and air conditioning. Refrigeration, Airport Shuttle, Pets Allowed, Dogs Allowed (please call hotel for more information 978-263-8701). In addition, for hotel guests, we provide a fully equipped fitness center that includes changing rooms and showers, treadmills, ellipticals, stationary bikes, and free weights. Stay in control of your business with our on-site business center, which offers computer, printer, and fax services.
The hotel restaurant, bar, and indoor restrooms are also exclusive to VIPs, Hotel guests, and Exhibitors.
VIP Live Concerts including Roots of Creation appearing in Concert on Friday, October 7, 2022, at 4:00 pm – also Brett Wilson solo set Friday Evening – Special Show only for VIPs, Exhibitors and Hotel Guests and Mikaela Davis with her band Southern Star will be performing in concert Saturday, Oct. 8 on the main stage outdoors – Mikaela Davis will be performing a special solo concert for VIPs, Exhibitors and Hotel Guests with More VIP Activities To Be Announced.
First Harvest Hemp Co. & The First Massachusetts Hemp Harvest in 90 years