Lazy River Products Executive Management Team each has more than 20 years of experience in their respective fields of business entrepreneurship, corporate technology, and cultivation/horticulture. They have combined their expertise and together have formed a brain trust comprised of some of the best resources in the industry today. Their shared goal is to use data and process-driven methodologies along with a strong customer service focus to create one of the leading brands in the industry and a successful organization that drives lasting change within the local communities it serves. Visit our booth #228 at The HighLifeStyle Show October 7-9, 2022 Regency Hotel – Boxborough, MA.
Lazy River Products is a vertically integrated cannabis cultivation and product development company in Dracut, MA which, at its core, will produce the highest quality cannabis and cannabis-related products in New England.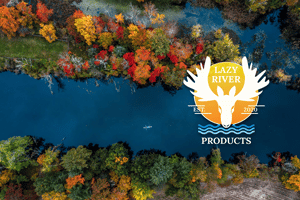 While other companies out there are manufacturing products that clog up the earth, we're proud to be choosing and implementing packaging composed of much more environmentally responsible materials.
At Lazy River Products, every effort has been made to use recyclable and sustainable products from glass concentrate jars that are made from 56% recycled glass to #5 recyclable polypropylene containers containing an organic additive that ensures faster degradation in landfills.
We care about our flower deeply, but it is also important to note that we are concerned with safety and environmental conservation. From our cultivation methods to our business operations to our packaging, we are proud to do our part to ensure we are helping the planet.
Keep following along with this blog as we talk about the importance of cannabis packaging and why we love our esteemed packaging partner: Calyx Containers.
"Much More Than Just a Container": The Importance of Packaging in the Legal Cannabis Industry
Why is cannabis packaging such an important issue? Simply put, while you may not realize it, cannabis packaging actually serves many functions. These functions include child safety, acting as freshness preservers, and contributing to the overall health of the planet, amongst many others.
The Sheer Size of the Cannabis Packaging Industry (Plastics)
To put things into perspective, let's look at some data from GlobeNewsWire regarding the exponentially increasing use of plastics in cannabis packaging:
On the basis of material, the plastic segment accounted for the highest market share in 2021 owing to extensive consumption of plastics in packaging products like jars, pouches, vials, containers, and thermoformed blisters and clamshells due to structural benefits and cost-effectiveness, This certainly is staggering information, indeed, as well as another testament to the importance of choosing the 'right' packaging partner.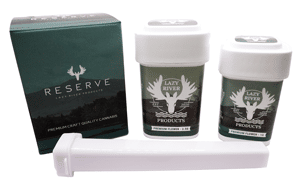 Calyx Containers: Simplified Packaging & Inventory
Speaking of choosing the right packaging partner – next, an introduction to Calyx Containers.
According to their website: "Calyx Containers and Trays transform cannabis packaging by providing unparalleled efficiencies, unique brand-ability, and downstream consumer benefits.". In addition to their plastic containers, we will also be using their glass containers for our reserve line as well as for concentrates.
Security: Firstly, perhaps one of the most important concerns in the legal cannabis industry is safe, child-proof packaging. Conscious consumption is always going to be the name of the game when it comes to responsible cannabis use. Therefore, you want to make sure your stash is protected and secure in any situation, whether you are on the go or relaxing at home.
Calyx Containers are an excellent solution that offers an innovative pinch and pulls opening mechanism that keeps kids out and ensures that the adults can easily access their flowers when they need to. Chill out in comfort knowing that you are consuming consciously, and ensuring the safety of those around you.
Storage: Secondly, the issue of storage was also vital to our search for the best cannabis flower packaging. Calyx keeps your flower fresher, and longer, and exudes unmatched style while doing so. Their plastic containers feature a truly resealable lid that is responsible for regulating internal moisture and oxygen, which is great when you want to keep those terpenes nice and fresh for continued consumption.
What's more, another amazing thing about Calyx containers is that after you've smoked your flower, you can then repurpose your container for many other everyday items that require storage!
Sustainability: Last but certainly not least, Calyx Containers believe that sustainability is actually multi-dimensional, which means that the cost of doing business absolutely cannot come at the harmful expense of our planet. Their team fully believes in 'mindful manufacturing' that is directed at the reduction of energy, water use, and emissions. With these containers, you're saying "good-bye" to single-use plastics. This packaging is specifically designed to be reusable and fully recyclable!
Environmental Responsibility: But wait, there is a lot more! It is also important to note that Calyx containers have less impact on our environment compared to traditional packaging. These containers are treated with an organic additive that enhances the speed of microbial decomposition, a process that is also known as 'accelerated degradation.' When you purchase our Lazy River Products flower retail/wholesale, you can rest assured that you are making a sustainable choice.
About The HighLifeStyle Show
The High Lifestyle Show October 7-9, 2022
The Boxboro Regency Hotel and Conference Center, Boxborough, MA
Tickets are available now!
You must be at least 21 years of age to enter the private property.

The HighLifeStyle Show will be over 30,000 sq ft indoor and outdoor gathering of brands, dispensaries, distributors, growers, artists, performers, and consumers to converge in the HighLifeStyle of B2B and B2C in a resort hotel conference setting with exhibitors, vendors, concerts, comedy, education, celebrities, socializing and networking.
The HighLifeStyle Show offers exhibitors and vendors a fun environment to meet qualified customers who are interested in canna-related products, services, and creative arts.
As a business conference, one of our goals is to have businesses, entrepreneurs, and brands be able to meet the distributors, retailers, and consumers in an entertaining, safe environment. Retail distributors can promote their products and retail locations in order to compete to attract new customers. Artists can find new fans. Craft growers can network to find supplies they may need to be an at-home botanist, or find outlets or job opportunities.
As a LifeStyle conference, we will be showcasing all aspects of the canna-inspired culture including health, wellness, music, art, clothing, literature, food, cultivation, supplies, medical, educational, and ancillary aspects including cannabis weddings and travel.
There will be two levels of participation involving access to indoor and outdoor activities. All attendees will be able to access all of the Exhibitors indoors and out.
Live Music On The Main Stage Outdoors All Weekend Long Includes
The Wailers, Roots of Creation, Brett Wilson, Mikaela Davis, Barrence Whitfield, Walter Sickert & The Army of Broken Toys, Tsunami of Sound, Justine's Black Threads, and more.
Laugh your bud off with LIVE Comedy & Stand-up
Starring Matt Barry, Mona Forgione, Ian Stuart, and Josh Day will be performing standup comedy, all weekend long.
Click Here For more info on Exhibitor Space or Sponsorship, or email:
Marc@NECANN.com or GarySohmers@gmail.com
THERE WILL BE NO SELLING ANYTHING IN VIOLATION OF MASSACHUSETTS LAW. THIS LOCATION IS NOT A DISPENSARY.
About the Venue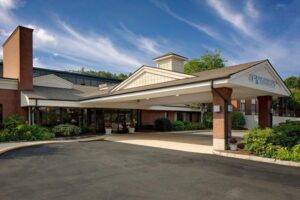 Make it a vacation and stay for the weekend! Boxboro Regency Hotel (978) 263-8701 Located in a rural area near several corporate offices, this simple conference hotel is 1 mi (1.6 km) from I- 95 and within 1 mi (2 km) of Oxbow National Wildlife Refuge. 9 km and 33 km from downtown Boston. The warm, traditionally furnished rooms feature free Wi-Fi access, a flat-screen TV, a coffee maker, and a seating area. Higher-class rooms have mini-fridges and/or a balcony or terrace overlooking the pool. Suites also include sofa beds and microwaves, while higher-end suites have separate living rooms.
While there are many pleasant restaurants close to our hotel, we are happy to offer guests delicious on-site dining options. Enjoy breakfast, lunch or dinner at our casual restaurant Minuteman Grille American Pub. You can also enjoy a delicious meal served directly in your room.
Amenities consist of a tropical atrium with a fountain, free Wi-Fi, free parking, disabled access, an indoor pool, a restaurant, bars, room service, and air conditioning. Refrigeration, Airport Shuttle, Pets Allowed, Dogs Allowed (please call hotel for more information). information 978-263-8701). In addition, for hotel guests, we provide a fully equipped fitness center that includes changing rooms and showers, treadmills, ellipticals, stationary bikes, and free weights. . Stay in control of your business with our on-site business center, which offers computer, printer, and fax services.
The hotel restaurant, bars, and indoor restrooms are also exclusive to VIPs, Hotel guests, and Exhibitors.
VIP Live Concerts including Roots of Creation appearing in Concert on Friday, October 7, 2022, at 4:00 pm – also Brett Wilson solo set Friday Evening – Special Show only for VIPs, Exhibitors and Hotel Guests and Mikaela Davis with her band Southern Star will be performing in concert Saturday, Oct. 8 on the main stage outdoors – Mikaela Davis will be performing a special solo concert for VIPs, Exhibitors and Hotel Guests with More VIP Activities To Be Announced.
Lazy River Products Growing to be a Leading Environmental Responsible Brand