Toking with the DEAD is a comic series that combines marijuana and zombies. Created by Benjamin Bartlett and Jeffrey Homan of Massachusetts, the comic series was years in the making and the first five issues are now complete and available to the public. Follow their story as they fight for their lives, and their weed, in this hilarious action-packed adventure.
The comic is based on two friends who open a dispensary after the legalization of medicinal marijuana when a catastrophic event at a nearby facility flipped their world upside down and people began to turn into crazed, undead mutants. "Duke and Tobi, the two main characters, accidentally discover that their weed has a strange and unique effect on the zombies. The need for flesh has been replaced with a need for weed, and maybe a Twinkie or two." said Jeffrey.
The intoxicating aroma of innovation fills the air when one dares to venture into the labyrinthine universe of "Toking With The Dead." This is not merely a comic book series; it's an odyssey that sails beyond the inked pages into a realm where cannabis culture, interactive media, and artistic ingenuity coalesce.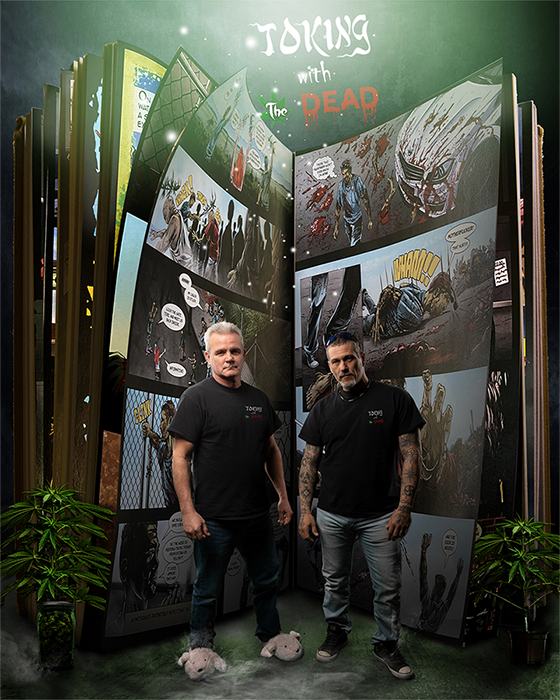 In addition to the comic series, Toking with the DEAD has an expanding merchandise line, including apparel and collectables that is now available on-line as well as in select local stores and shops. "The novel is currently at the publishers as well, and will be available shortly." Said Benjamin, adding "And, we began filming a live action series with Bill Diamond Productions and, we are looking into the possibilities of an animated series in the near future."
"We didn't expect such a great response when the premier issue was released, and we certainly didn't anticipate the 5/5 star reviews we are receiving." said Jeffrey. "People are already asking when the next issues will be available, that excites us."
With the fast- and ever-growing marijuana industry sweeping the nation, and the popularity of all things zombie, it looks like this comic is well on its way to becoming a huge success. The combining of adult humor, education and satire with horror and weed has put Toking with the DEAD into a category all its own, and people are eating it up.
In late 2019, Ben and Jeff started a live broadcast show that is produced by The Dorkening Podcast Network. "Still Toking with", now in its fourth season, hosts a variety of guests from all aspects of life, you never know who might be on. The shows are recorded and available to watch anytime on their website.
Don't miss your chance to meet the minds behind Toking With The Dead at September 2023's HighLifeStyle Show! Grab some comics, watch their live broadcast stream (and maybe say a few words on camera!).
"Toking With The DEAD": Where Cannabis Meets Comics at the HighLifeStyle Show!